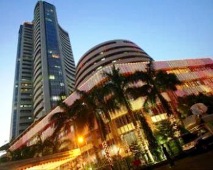 Valuation of banking stocks such as SBI, BoB, BoI, ICICI Bank and Axis Bank among others might have turned attractive but given the dark clouds around the sector, analysts are cautious
Banking stocks, including top ones like State Bank of India, ICICI Bank, HDFC Bank, Bank of Baroda and Bank of India, among others, have fallen sharply in the last one month.

Private banks are down seven-43 per cent, while public sector ones are down between eight and 43 per cent.

Consequently, the Bombay Stock Exchange Bankex index is down 17 per cent; it is down 31 per cent from its all-time intra-day high of 15,335.89 on May 20.

In comparison, the Sensex is down by about nine per cent (one month) and 9.5 per cent (three months), respectively.

Slowing loan growth, worsening asset quality scenario and lower profit growth are the key reasons for this fall in banking stocks.

With the hammering, most banking stocks are now trading close to their 52-week lows.

Notably, public sector banks are trading at dirt cheap valuations of 0.5 times, while private bank valuations appear undemanding at 1-1.4 times, based on FY14's estimated book value.

The only exception is HDFC Bank, which trades at premium valuations of 3.6 times, thanks to its consistent financial performance over the past decade.

However, analysts believe investors should not fall for the cheap valuations and given the weakening macro-economic situation, see further downside for the stocks.

"Bank stocks have corrected sharply and can possibly get even cheaper.

"So, valuation is a mirage.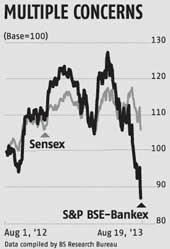 "Positive catalysts are missing.

"One should clearly be underweight in financials in our view.

"Specifically avoid PSBs, which are very weakly capitalised.

"We would recommend buying HDFC Bank and ICICI Bank, as we prefer stocks with good earnings growth, high degree of earnings visibility and stable funding franchise," believes Suresh Ganapathy, banking analyst at Macquarie Capital.

A weaker rupee has led to the tightening of liquidity by the Reserve Bank of India and has pushed up short-term interest rates.

Rising interest rates and a slowing economy would put pressure on margins, as well as lead to higher asset quality stress for the banking sector.

Analysts thus expect the impaired loans to rise to 12-14 per cent of the loan book by FY15 from the prevailing 9.2 per cent.

Whereas rising interest rates and credit costs are expected to result in a 25-50 basis points contraction in the net interest margin of most banks for the financial.

"Recent (interest) rate move is likely to lift defaults on loans over the next six-12 months. Interest rates (3 month Commercial Paper) are now up 300 basis points over July, and with continued currency depreciation, are likely to stay elevated.

With growth slowing, the pressure on profitability would go up," believes Anil Agarwal, banking analyst at Morgan Stanley Research, who, in an August 7 report, has lowered his price target for most top banks (see table).

Further, lower credit demand would hit the banks' credit off-take as well.

Loan growth (which is slowing down over the past few quarters) is expected to further reduce to 10 per cent for this year.

What's more, rising g-sec yields suggest that banks would also see a hit in their treasury income in the current quarter.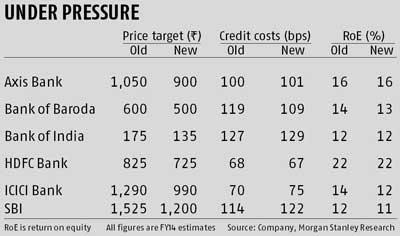 Given this backdrop, analysts have trimmed their estimates for most banks.

"Earnings downgrades have sharply picked up for the banking sector but they are not over.

"We are cutting FY14 estimated earnings per share sharply by 30 per cent for PSBs and around five per cent for private banks driven by lower loan growth, margins, treasury profits and higher credit costs.

"Consensus, in our view, is still sitting on higher loan growth and margin numbers, which they have to bring down," believes Ganapathy of Macquarie Capital.

Pick-up in growth and/or falling interest rates would be the key triggers for the banking sector going forward, which however is unlikely anytime soon.

While most analysts continue to prefer HDFC Bank due to its superior financials, they are shying away from PSBs.

They believe some PSBs would also likely need capital infusion to maintain growth as well, as capital adequacy, which in turn would put further pressure on their stocks.