Metro may have become the preferred choice of several states to decongest the ever-growing traffic, but Union Urban Development Minister Kamal Nath's solution to the problem is monorail -- which he says can be easily built at low cost and operated.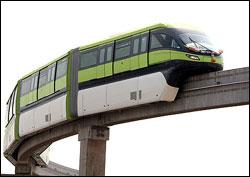 As the National Capital Region is expanding at a fast pace, Nath also encouraged Delhi and other states to go for monorail to improve public transport in their cities with a promise that the NCR Development Board will supplement the process.
"Monorail is really good. It is 40 per cent cheaper than Metro and it can make much sharper curves than the Metro. It can climb up and down easily which Metro cannot do. And it is very easy to build those monorail stations," he told a press conference in New Delhi.
The minister said the monorail systems can be built under public-private-partnership mode.
Nath said the first monorail corridor would come up in the capital from Trilokpuri to Shastri Park Metro stations and that 10 more corridors would come up.
The monorail corridors can be built to supplement the Metro system and in those areas where the Metro cannot make much inroads.
Nath's statement comes on the heels of a craze being witnessed among states to opt for Metro mode of mass transit system to ease traffic congestion.
However, many experts like former Delhi Metro chief E Sreedharan have opposed the idea of monorail corridors.