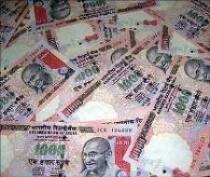 It pays to stick to old fundamental ways of investing. At a time when the market is range-bound with highs appearing exceedingly difficult to be sustained, many companies are seeing their share prices register new highs.
The common link amongst these companies is that their businesses have been able to generate operating cash flow.
Investing in a company based on an analysis of its operating cash flow is a preferred option. Many market experts opine that operating cash flow is a better measure of the company's profits than just the mere earnings reported on the books.

CASH KINGS
 
Operating Cash Flow (Rs cr)
FY 09-10
4-Aug-10
Price in Rs
PE
TCS
740
870.00
23.10
Infosys Tech.
617
2867.80
26.43
Jindal Steel
557
620.29
16.08
ITC
444
154.90
27.86
Hind.Zinc
408
1067.80
10.71
NMDC
360
269.35
25.42
GAIL (India)#
285
440.60
16.58
M & M
280
653.90
16.82
Sesa Goa
257
371.10
9.09
Bajaj Auto
256
2723.75
19.74
Sun Pharma.Inds.#
217
1778.25
21.03
Dr Reddy's Labs
188
1375.70
72.23
Torrent Power
172
339.95
15.41
Hero Honda#
136
1889.70
16.97
Apollo Tyres
132
66.65
9.31
Maruti Suzuki#
126
1213.59
14.74
Ashok Leyland
109
72.45
17.90
Asian Paints
106
2591.75
28.19
#For March 2009
Source: Capitaline, Compiled by BS Research Bureau
"Cash is king! And the operating cash flow is a very important parameter to judge a company's performance," says Motilal Oswal, chairman and managing director, Motilal Oswal Financial Services.
"The market always gives a higher price earnings multiple to companies that have a significant cash flow. If you look at any capital guzzling entity, no matter how the performance is, the price to earnings multiple would always be lower compared to a company with higher cash flows. Historically, the best PE multiple companies have been those that have a good operating cash flow and impressive earnings," he explains.
Operating cash flow has been historically looked upon by analysts as an important barometer. In a report released in November last year, Emkay Global Financial Services noted that operating cash flow is one of the important parameters along with return on equity and return on capital employed.
"Among the 12 important parameters used in the study, positive operating cash flow, high RoE & RoCE dominate. We believe that these are primary factors which caused stocks to touch lifetime highs," noted Emkay.
In financial accounting terms, operating cash flow refers to the amount of cash a company generates from the revenues it brings in, excluding costs associated with long-term investment on capital items or investment in securities. In simple words, operating cash flow is the cash that a company generates through running its business.
The benchmark 30-share Sensex of the Bombay Stock Exchange has traded in a narrow range in the current calendar year, gaining only a little under 500 points or 2.82 per cent. Quite expectedly, there has not been much action in any of the index constituents.
However, around 100 off the top 500 companies listed on BSE have registered new highs in the current calendar year. In most such cases, an operating cash flow in excess of Rs 50 crore (Rs 500 million) has been registered in the financial year 2009-10 .
Take for instance Asian Paints. The shares touched a new high of Rs 2,608.90 on Wednesday. The company boasts of an operating cash flow of around Rs 106 crore (Rs 1.06 billion). Similarly electrical equipment major Crompton Greaves touched a new high of Rs 296 on July 23. Analysts are upbeat over its operating cash flow of Rs 105.60 crore (Rs 1.06 billion) for FY10.
Among other notable counters that touched a new high in the recent past include, Ashok Leyland, Bajaj Auto, Cadila Healthcare, Hindustan Zinc, ITC, Torrent Power, Sesa Goa, Lupin, EID Parry, Mahindra & Mahindra, NMDC, Sun TV Network, Exide Industries, Crompton Greaves and Infosys Technologies. Infosys, incidentally, reported an operating cash flow of Rs 617.30 for FY10.
However, there is a caveat. The OCF technique might not be a good tool analyse entities within the banking sector. Incidentally, banks typically have high cash flows on their balance sheet.
"For banks, cost of funds, yield on assets, RoA and price to book are the more useful parameters. OCF cannot be used for banks," says Anish Damania, business head (institutional equities), Emkay Global Financial Services. Operating cash flow is one of the more important parameters for the manufacturing and services sector, he adds.
That notwithstanding there are nearly 20 banking entities that have touched a new high in the current calendar year. Andhra Bank with a cash flow of more than Rs 550 crore touched a new high of Rs 151 on July 21. Similarly, Allahabad Bank, Yes Bank, UCO Bank, State Bank of India and Punjab National Bank are some of the other banking majors that have touched their respective highs in the month of July.
Cash, then indeed is king!