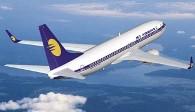 The Raj Thackeray-led Maharashtra Navnirman Sena (MNS) on Monday asked private carrier Jet Airways to make announcements in Marathi and also Marathi movies and newspapers mandatory in flights operating from Mumbai.


"I demand that you should start Marathi announcements and also show Marathi films and have Marathi newspapers on board the flights from Mumbai," MNS MLA Nitin Sardesai said in a letter to the CEO of Jet Airways.


If Jet did not heed to the 'request' they should be aware of the 'Marathi alternative', Sardesai said, in a veiled threat.

Sardesai said that during a Jet flight between Mumbai and London recently, he noticed that along with Hindi films, movies in Tamil, Malayalam and Gujarati were being screened on the in-flight entertainment system.


"Your company's head office is in Mumbai. You are aware that lakhs of Marathi people travel by your airline. Despite this, you show apathy towards their facilities," he said.