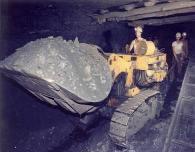 The government on Friday approved a landmark draft mines bill which provides for miners to share 26 per cent of their net profits for the people affected by the coal projects, while the burden on the non-coal miners will be amount equivalent to royalty.
The draft bill, approved by the Union Cabinet, also addresses the burning issue of illegal mining, as it provides for a regulatory authority to govern the sector.

"It will have powers to investigate and prosecute the offenders," Mines Secretary S Vijay Kumar said after the Cabinet meeting. He said the authority would also be empowered to look into the cases of organised illegal mining.

Despite an outrage against illegal mining in Karnataka and Goa, the menace remains largely unchecked. As many as 82,000 cases were reported in 2010 and about 25,000 cases in first three months of this year, government data shows.

The Mines and Minerals (Development and Regulation) Bill, 2011 will replace the 54-year-old legislation governing the sector. It was felt that the existing laws have not provided a fair deal to those affected by the mining projects and the leases were not given in transparent manners.

Additional outgo for the non-coal miners would be around Rs 4,500 crore, according Mines Minister Dinsha Patel. As per the industry estimates, Coal India alone may have shell out about Rs 1,000 crore a year for the proposed fund.

Stocks of metal and mining firms were hammered on the bourses. While Coal India lost by five per cent, SAIL and Tata Steel were down by about four per cent.
"It (new measures) will not attract private investment in the mining sector, which is badly needed... The mining activity will come down," Industry body FIMI said.