Micromax was best known so far as the handset vendor which forced Nokia and Samsung to review their strategies for the entry-level market in India.Earlier this month, the company became the 12th largest handset manufacturer in the world, with one per cent share globally.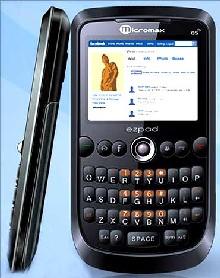 Micromax, according to a Strategy Analytics report, is now larger than global Japanese handset makers like Sharp and NEC.

It has even moved ahead of Lenovo and is closing the gap with Sony Ericsson globally. Strategy Analytics tracks the world's 30 largest handset vendors on a quarterly basis.

That's great going for a company which made its international foray only last year and is now present in Philippines, Denmark, Bangladesh, Sri Lanka, UAE, Hong Kong, Nepal and Brazil.

Micromax also topped the micro vendor rankings, shipping four million handsets worldwide in the second quarter of 2011.

As per the Strategic Analytics report, the company cornered 8 per cent share in its home market India, ranking the brand just behind Nokia and Samsung in terms of volumes. Micromax grew 48 per cent annually.

Rahul Sharma, executive director, Micromax, says the company sells an average 1.5 million phones per month in most of the countries it operates in.

So what explains the success in a crowded marketplace?  "Innovation and customisation", is the rather predictable answer from Sharma.

But the response from the market has been phenomenal indeed, an indicator that Sharma is indeed walking the talk.

The stores in Brazil, for example, ran out of Bling stocks within days of launch and it was enough proof of the fact that we had done our homework well about Brazilian users looking for style in their handsets," says Sharma.

What essentially worked for the Brazilian market was Micromax Q55's (Bling) design differentiation that uses Swarovski Zirconia crystals as buttons, packs in Yamaha sound, FM radio, and comes with pre-built social networking features.

The company reportedly invested around $12.5 million in the Brazilian market and has launched three new phones that sport features like dual SIM, multimedia and marathon battery to appeal to the youth market.

Micromax's USP in the rural market in India has been a 30-day battery back-up phone, a feature that was unheard of in the country.
But it had an instant connect with people in rural areas where power supply is erratic.
The company is relying on the same trick – of giving users that one feature they want in the handset – to work its magic in international markets.
In Bangladesh, Micromax went after fishermen – who have turned out to be the biggest handset users.
"We had to micro-target these users and came up with waterproof handsets (essentially handsets which have a water-resistant cover that protects the screen and the battery). Pricing them at sub-Rs 2,000 made the product immensely successful," says Sharma.
Further, a consumer preference research in Bangladesh told the company that buyers wanted call recording features.
"The recording function was used to record local market prices, commodities' prices and day-to-day business dealings by local traders. We brought that feature into our phone," Sharma adds.
Besides, the company is also carefully establishing its brand via local marketing campaigns, pre-built local dialects on handsets that can take the brand closer to locals.
With 20 per cent of its revenues now coming from international markets, Prateek Seal, head (Marketing), Micromax has an important task of creating the go-to-market route for the company as it launches the brand in newer geographies like Africa, later this year.
Africa, Seal says, is quite similar to what the Indian mobile market was a few years ago. "Mobile penetration is at about 50 per cent, with customer growth at around 15 per cent. Users are looking for affordable smartphones that will connect them to the internet. We will approach the market accordingly," he adds.
Seal maintains that the company does not like to associate itself with tags like "cheap" phones. "In every country that we are, we have given target users devices that best serve their needs. That's innovation and not doing things cheaply," he argues. Micromax has put together a sales team in Nigeria, Africa's largest telecom market.
Sharma is confident that by the year-end, the company would have 60-70 handsets in its portfolio.
The company has readied dedicated entertainment apps (mobile applications) that will run on its smartphones and will also launch an app storefront that will enable users to download content to their handsets.
Developed by Micromax research labs, the MyApps feature would soon be pre-built into the handsets.