With the prevailing uncertainty in equity markets and an indefinite postponement of hopes of any recovery, retail investors accessing stock markets through equity mutual fund schemes are wriggling out fast.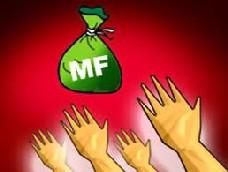 Around 125,000 equity investors closed their folios in November -- the second highest in the current financial year after July, when equity folios had shrunk by 330,000. Since the beginning of the current financial year, the industry has lost 770,000 equity folios.

Equity schemes were hit badly, marred by lesser flows of fund in equities, at around Rs 3,000 crore (Rs 30 billion) during the month, compared with over Rs 4,000 crore (Rs 40 billion) to Rs 5,000 crore (Rs 50 billion) witnessed in the earlier months of year.

At a time when benchmark stock market indices gave a negative return of nine per cent, investors preferred to stay away from equities and redeemed shares worth Rs 52 crore (Rs 5.2 million). True, it was marginal, but it marked the first net outflow after three consecutive months of net inflow in the equity segment.

SBI Mutual Fund chief marketing officer Srinivas Jain says the overall appetite for investments in equity schemes is very poor. "It's a big problem. Poor performance of equity markets is having a psychological impact on investors," he adds.

Fund managers term the issue "serious". With poor performance of equity schemes over the last few years and high interest scenario, fund
managers say investors are fast shifting to fixed income schemes which are predictable and currently offering nine per cent plus returns.
According to Ajit Menon, executive vice president and head of sales at DSP BlackRock Mutual Fund, there is consistent flow of bad news over the last few months.
"Investors are not getting confidence in such markets," he notes. "Moreover, at a time when interest rates are so high, why would investors put money in equities?"
Other fund managers agree. UTI Mutual Fund chief marketing officer Jaideep Bhattacharya and Tata Asset Management CEO Sanjay Sachdev had earlier told Business Standard there was a clear trend of customers going for more fixed-income fund products.
Apart from poor market situation amid constant bad news, globally as well as domestically, fund managers were quick to add that the change in regulations in August 2009 on the abolition of entry load was playing havoc with equity investments.
"There cannot be a quick-fix solution to deal with the no-entry-load regime," says the chief executive officer of one of the top five fund houses. "Though it is over two years now, the industry is in an interim phase of adjustment. During such troublesome times, we have no option but to suffer."
The performance of equity schemes are worsening. Barring fast-moving consumer goods, no equity category scheme has given positive returns over the past year.
The worst performing equity scheme has shown a negative return of as much as 27 per cent during the period till date.