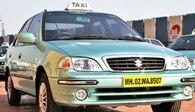 Meru Cabs, India's largest radio cab service provider, plans to ramp up its operations by adding 2,000 cars and hiring an equal number of drivers by March 2011 to cater to increased demand.
Meru Cabs CEO Rajesh Puri told PTI that it witnessed 10 per cent increase in demand for its services. "We were not able to fill the demand and were forced to turn down request for cab services".
"Meru receives around 22,000 requests for cab bookings in a single day across Mumbai, Delhi, Bangalore and Hyderabad," he said.
During peak hours, the company found itself rejecting nearly 40 per cent requests, prompting it to hire additional drivers, he said.
"Currently we have 5,000 drivers across four cities. We plan to recruit additional 500 drivers in each city by March 2011," he said.
The company is planning to pump in investments for the ramping up operations. "Rs 150 crore (Rs 1.5 billion) investment would go into procuring and deploying 2000 cabs," he said.
The firm was also looking at extending to other cities. "We are evaluating 3 cities at the moment. Chennai, Pune and Kolkata," he said. "All drivers are selected only after police verification.
They are all trained drivers and their licenses are checked", Puri said. The company was also seeing a demand from corporates for their services.
"We have already tied up with corporates like Air India, Microsoft, Hewitt, Infosys. We provide pick up and drop services for their staff," said Puri. On the current industry size, and its market share, Puri said, "Although it is difficult to exactly estimate the market size and hence our market share, in the 4 markets we operate in, our share would be close to about 50 per cent".