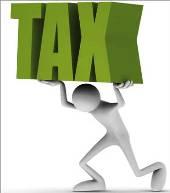 With direct tax collection target of Rs 5.32 lakh crore (Rs 5.32 trillion) looking difficult to meet, the Central Board of Direct Taxes on Monday said it would concentrate on big corporates and salaried employees to mop up the revenue.

"There is a concern. . . Index of Industrial Production and gross domestic product are down.

"It will be difficult to achieve budget estimate," CBDT chairman M C Joshi told PTI.

He, however said the department was working hard to achieve the target given to it in the Budget.

"We will monitor tax deducted at source (TDS, for salaried employees) and concentrate on bigger assessees," he said.

The economic growth slowed to 6.9 per cent in the second quarter against 8.4 per cent in the
same period last year.
The industrial growth is slowing and in October the factor output measured on Index of Industrial Production shrunk by 5.1 per cent.
The CBDT chief said, as on December 17, the direct tax collection has been Rs 3.16 lakh crore (Rs 3.16 trillion) as against Rs 3.88 lakh crore (Rs 3.88 trillion) in the same period last year.
"We have achieved 59.4 per cent of Budget Estimate as against 67.5 per cent last year," Joshi.
Collection from the corporate and non-corporate segments in the third quarter are up by 10 per cent and 20 per cent, respectively, he said.
Advance tax collection till December 17, however was 9.4 per cent higher over the previous year.
While tax collection from software sector has been good, Joshi said the mop from oil marketing companies was less this year.