The suspense over who will steer India's first all-women bank is over. The finance ministry has identified Usha Ananthasubramanian, executive director of Punjab National Bank, to be the chief executive of Bhartiya Mahila Bank, which will launch its operations from November with six branches.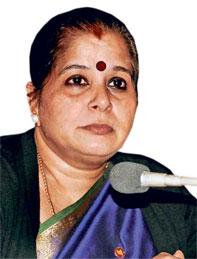 Ananthasubramanian is leading the core management team (comprising employees from various public-sector banks) set up to put in place by October 31 the systems and processes necessary to start the bank's operations. The government will formally announce the name of the CEO after the Reserve Bank of India has issued the licence.

Ananthasubramanian, 55, started her career in 1982 at Bank of Baroda as a specialist officer in the planning stream. She holds a dual master's degree — in statistics from the Madras University and in ancient Indian culture from the Mumbai University.

Her experience could come in handy, as she has in the past led similar initiatives, such as overseeing the formation of Bank of Baroda's
life insurance joint venture.
That the country will have an all-women bank was announced by Finance Minister P Chidambaram in his Budget speech earlier this year. He had said the bank will get an initial capital of Rs 1,000 crore (Rs 10 billion).
After starting with one branch in each banking region, the bank will expand to 500 branches by the fourth year of operation. It will, however, have to comply with all RBI guidelines and will not offer any concessional rate to women. A five-member panel, headed by former Canara Bank CMD M B N Rao, prepared the blueprint for the bank.
Since the bank will draw employees from public-sector banks, (besides fresh recruitment), managing a diverse pool of human resource is going to be a big challenge. But sources in the know say Ananthasubramanian, who has an experience of over three decades, in which she has risen up the ladder, has been found to be suitable for the task.
She has attended the leadership & corporate excellence management programme at Kellogg School of Management and a programme at Indian School of Business. She has also been associated with Bank of Baroda's transformation projects, including its rebranding and HR initiatives.