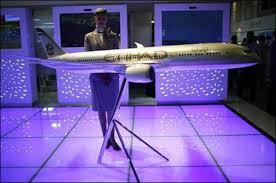 The External Affairs Ministry on Friday termed as 'normal' the draft sent to the Finance Ministry by Indian Ambassador to UAE on Jet-Etihad deal, saying it was routine for diplomats to 'obtain, assess and share' information on various issues in their host countries.

The spokesperson in the Ministry of External Affairs said diplomats deal with a variety of issues and it was normal for them to collect information, assess them and send report to the government back home.

He said India's envoy to United Arab Emirates, T P Seetharam, was 'exactly doing this'.

He was asked about Ambassador's draft pushing for Jet- Etihad deal in a letter to the Finance Ministry after Securities and Exchange Board of India had decided to take a fresh look at the Rs 2,060-crore (Rs 20.6-billion) venture.

Abu Dhabi-based Etihad's acquisition of a 24 per cent stake in Naresh Goyal-led Jet Airways, the first foreign direct investment in an Indian carrier by an overseas airline, was announced in April 2013
and approved by the Sebi last year.
In January, market regulator Sebi had decided to take a fresh look at the Jet-Etihad deal following observations made by fair trade watchdog Competition Commission.
"It is normal for Indian diplomats when they interact in countries where they are posted to obtain information, assess it and then send it in a manner which is understandable to our senior officials at home.
"This is the normal way that diplomats work," the MEA spokesperson said.
He said the envoy had sent the communication in view of a visit by a leading investment delegation from Abu Dhabi to India and the information provided was to convey to the authorities here about the thinking there, the possibilities what are the issues that had arisen and what according to his assessment should be the approach.
In November last year, Competition Commission of India had approved the acquisition. The Commission had said the transaction does not raise concerns of adverse competition issues.