The country's largest carmaker Maruti Suzuki India today reported 5.41 per cent decrease in net profit at Rs 227.45 crore (Rs 2.27 billion) for the quarter ended September 30 due to lower sales, mainly of petrol models.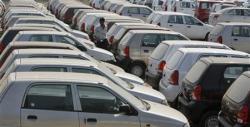 The average discounts on the models, especially petrol run, were all-time high during the July-September quarter.
The company had posted a net profit of Rs 240.45 crore (Rs 2.4 billion) in the corresponding period last year, Maruti Suzuki India (MSI) said in a statement.
The net sales during the second quarter of this fiscal, however, went up by 8.53 per cent to Rs 8,070.11 crore (Rs 80.70 billion), from Rs 7,435.85 crore (Rs 74.36 billion) in the year-ago period, it added.
In the July-September period, vehicle sales of MSI fell by 8.69 per cent to 230,376 units, from 252,307 units in the same period last year.
Out of this, the company sold 209,954 units in the domestic market compared to 222,406 units in the same period previous year. It also exported 20,422 units as against 29,901 units in last year, the statement said.
Commenting on the numbers, MSI said: "The market showed a marked preference for diesel cars, while demand for petrol vehicles dropped sharply... The bottomline has also been impacted by lower non operating income during the quarter."
Despite ramping up the production of diesel cars, the company has a waiting list of nearly 125,000 diesel cars.
"To counter subdued demand for petrol cars, the company enhanced sales promotion measures that also impacted profitability... The company continues to focus on component localisation and reduction in cost and overheads," MSI said.
While talking to analysts in a conference call, MSI chief financial officer Ajay Seth said the company doled out more discounts in the second quarter that was "at an all-time high" to attract customers.
"On an average, the discount in Q2 was Rs 14,750 per car, while it was Rs 12,600 in Q1... This, of course, impacted our margins," he added.
On its growth in sales revenue, the company said it on account of robust demand for its new multi purpose vehicle Ertiga and "enhanced export realisations."
MSI scrip closed 2.27 per cent up at Rs 1,394.55 on the BSE.