The markets witnessed volatile trades during Tuesday's session, as they reacted to reports that the Government will not target Participatory Notes (P-notes) under the new General Anti-Avoidance Regulation (GAAR) regulations. One out of four tests, including abnormality test and main purpose test, have to be satisfied in order to invoke GAAR, reports suggest.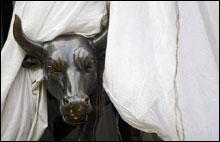 The BSE Sensex ended at 17,257, up 205 points and the Nifty ended at 5,243, up 59 points.
During the day, the BSE benchmark index had touched that day's high at 17,367 and the day's low at 17,061.
The fear that the income-tax (I-T) authorities would go after participatory note investments in equities had seen the benchmark stock indices take a beating on Monday.
The markets are expected to remain cautious during the last week of the current financial year, ahead of March futures and options (F&O) series' expiry, on Thursday.
According to Ranak Merchant, Technical Analyst - Strategies, Sushil Financial Services, "Nifty is trading just above its 200 day EMA. For Nifty the 5,203-5,170 range is an important support zone and if the same is not violated a test of 5,300 towards the week's end may be possible."
In Asia, Japan's Nikkei average hit its highest closing level since a massive earthquake and tsunami triggered a radiation crisis a year ago, buoyed by indications the US Federal Reserve may keep its supportive monetary policy. The benchmark Nikkei rose 2.4%, or 237 points, to 10,255, while the broader Topix also climbed 2.4% to 872. The Hang Seng index ended higher by 1.8% while the Shanghai Composite index ended lower by 0.2%.
European markets are also higher today with shares in Germany leading the region. At 1600 hours, the DAX was up 0.59% while France's CAC 40 was up 0.42% and London's FTSE 100 was up 0.23%.
Back home, all sectoral indices traded in the positive turf with strong gains visible in the BSE Consumer Durables, FMCG, Realty, Metal and IT indices, up 1-2% each.
Titan Industries, Rajesh Exports, VIP Industries, Videocon Industries and Bajaj Electricals, up 1-4% each, were the prominent gainers from the Consumer Durables' space.
From among the Realty stocks, DLF, Prestige Estates and Unitech, 2-4% each, were the notable gainers.
The Bankex index ended at 11,678, up 1%. Meanwhile, the Reserve Bank of India (RBI) has asked banks to avoid offering sharply different rates on deposits with similar maturities, saying that something is wrong with lenders if their retail and bulk deposit rates vary too much.
Cipla moved up 4% at Rs 300. The stock surged ahead of the Group of Ministers (GoM) meeting tomorrow to examine the proposed National Pharmaceutical Pricing Policy (NPPP) prepared by the ministry of chemicals and fertilisers. "The group will decide whether the policy should be market-based or a system of exact cost plus profit for medicine price fixing. The extent of price control, whether restricted to the specific strengths of drugs mentioned in the National List of Essential Medicines (NLEM) or on all strengths and combinations of NLEM, will be decided," reports suggest.
Other prominent gainers included DLF, Sterlite Industries, Hindustan Unilever and Bharti Airtel, up 3-5% each.
Maruti Suzuki India traded lower by 2% at Rs 1,272 after the Maharashtra government proposed a hike in road and registration tax on vehicles in its budget 2012-13. Maharashtra, and particularly Mumbai, is a key market for carmakers and is estimated to contribute as much 13-14 % of national sales. The buyers of petrol vehicles will have to shell out an additional 2%, while for diesel customers the hike will be steeper as the tax has gone up by 4%, once budget proposals come into effect on April 1, the report suggest.
Other losers from the space were BHEL, Sun Pharma Industries, Coal India and Bajaj Auto.
Shares of companies engaged in gold loans such as Muthoot Finance and Manappuram Finance dipped more than 7% each, extending their fall for a fourth straight trading session, after the Reserve Bank of India (RBI) asked these companies to put in place a board-approved policy to ensure that KYC (know your customer) guidelines are complied with and adequate diligence is carried out before extending any loan.
The overall market breadth was negative as 1,707 stocks declined against 1,186 advancing ones, on the BSE.
Image: A bronze replica of a bull is seen at the gates of the Bombay Stock Exchange. | Photograph: Arko Datta/Reuters