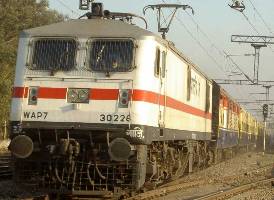 It was not a smooth ride for the Railways in 2009 with accidents, derailments and hijacking of the prestigious Rajdhani train affecting its functioning even as minister Mamata Banerjee's frequent absence from Railway Board invited criticism from some quarters.
During the fag end of the year, she tabled a 'white paper' in Parliament on Railways financial health which dismissed her predecessor Lalu Prasad's claim of an impressive turnaround during his tenure.
While Lalu dismissed the 'white paper' as a 'black paper', Mamata maintained that Railways' performance during 2004-09 was 'below par'.
Notwithstanding this, Railways earnings registered a steady growth with about nine per cent rise till November, earning Rs 55,586.69 crore (Rs 555.86 billion) as compared to Rs 51,117.55 crore (Rs 511.17 billion) during the same period last year.
But despite the growth in earnings, accidents happened with alarming regularity, raising concerns about passengers safety.
In October, 22 people were killed and as many injured near Mathura station when Goa Express hit the stationary Mewar Express from behind.
In less than a fortnight following the mishap, another accident near Jaipur claimed seven lives when Jodhpur-Delhi superfast derailed.
Mamata's frequent absence from the Railway Board and spending maximum time in West Bengal also drew flak from her critics.
However, an unfazed Mamata maintained that she was discharging her responsibility dutifully and 'it was not important whether I am in Delhi or Kolkata'.
In order to clean up the system, Mamata replaced chairmen of all 12 Railway Recruitment Boards across the country.
There were complaints of irregularities in recruitment process in RRBs.
The large number of vacant posts in key departments including safety and signalling also were a cause of concern for railways.
The launching of Duronto trains connecting Metro cities, a first of its kind non-stop superfast with Rajdhani like facilities, became an instant hit with passengers.
There were five Duronto trains out of 14 announced in Rail Budget launched so far. However, though announced in the budget, the low fare Yuva trains, between Delhi-Mumbai and Mumbai-Kolkata, are yet to be launched.
The train with AC chair car facility offer a fare of Rs 299 for 1,500 km and Rs 399 for beyond that.
Railways also witnessed formation of several committees -- six to be precise -- in the year.
While High-Power Monitoring Committee on implementation of railway projects, Expert Committee, Heritage Committee and another expert panel on use of ICT in Railways were formed for the first time, the PSU also revamped Passenger Amenities Committee and Passenger Services Committee.
Passengers Services Committee recommended for launch a dedicated railway television channel.
The Heritage Committee is keen on setting up film cities on railway land.
During the year, IRCTC received flak for its services. Plagued by complaints about the quality of food, Railways launched Janahar outlets to provide hygienic food at affordable rates including Janata meal at Rs 10.
However, Janahar has come up at six stations only against the target of 50 outlets across the country. Railways also decided to set up water purifiers at different stations providing potable water through reverse osmosis process in keeping with the passengers demand for clean water.
There were also a series of foundation laying ceremonies by Mamata most of which were concentrated in her home state. She inaugurated an auto hub in Shalimar and also laid the foundation of cold storage facilities for perishable items in Singur, a place close to Kolkata where she headed a farmers stir against acquisition of land for the Nano plant.
Besides, she also doled out other projects like coach manufacturing unit at Kachrapada near the Metropolis as well as a component unit at Dankuni.
Railways also witnessed a subtle oneupmanship with the West Bengal government over Singur land after the state invited it to set up a coach factory at the idle site. But Railways have insisted on returning back of 400 acres of land to farmers which has been at the centre of controversy before taking up any project there.
After 26/11, Railways also beefed up security across important railway stations and identified 196 stations for putting up integrated security apparatus.
The government nominated six top ranking Railway Protection Force official, including D G Ranjit Sinha, to receive specialised training in US from the Federal Bureau of Investigation.
Though many posts are still lying vacant in RPF, Mamata promised to fill them up on priority.
Railways drew flak for failing to meet the Eleventh Plan targets by constructing only 527 km of new lines, 2,189 km of gauge conversation and 1,299 km of electrification during the first two years of Plan period.
Completion of the Kashmir rail project between Qazigund and Baramulla was an important achievement of the railways during 2009.
The year also saw the much-hyped Rs 6,000-crore (Rs 60-billion) world class railway station project at New Delhi station stuck in a turf war between Railways and civic agencies.
While Railways was keen to develop the station on a large scale involving many commercial activities including shopping plazas, food plazas and other ventures, the DDA, Delhi Traffic Police and NDMC refused to approve the master plan.
The civic agencies contended that commercial activities would create unmanageable problem including traffic and civic amenities in the area. The refusal of civic agencies resulted in the cancellation of the bidding process for the second time for the New Delhi station.
However, Delhiites will remember the year for getting a grand new station with all modern facilities at Anand Vihar which aims at easing the traffic load from New Delhi station.