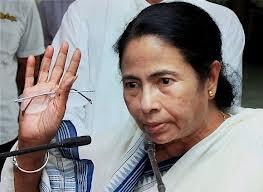 Expressing dissatisfaction with the Centre for not heeding to her demand of debt restructuring, West Bengal Chief Minister Mamata Banerjee said on Tuesday the state should be given at least a year's moratorium on repayment of interests on central loans.

Banerjee, who had been demanding a waiver of interest on the state's debts for a period of three years, said even a year's moratorium on repayment of interests on central loans would enable the state to create 10 lakh (1 million) jobs.

"We have been consistently asking the Centre to grant a three-year moratorium on the Rs 28,000-crore (Rs 280-billion) interest paid annually on loans, so that welfare schemes could be taken up.

"We have already created 250,000 government jobs since we came to power two-and-a-half years ago.

"Ten lakh more jobs can be possible if one year's moratorium is granted," Banerjee told a rally held in Plassey in connection with a government programme to distribute sops to the poor.

"While in 2011-12 the Centre and the Reserve Bank of India took away Rs 21,000 towards debt servicing, in 2012-13 they took Rs 25,000 crore (Rs 250 billion) out of Rs 32,000 crore (Rs 320 billion) that we earned," she said, adding that 'this fiscal they would be taking away Rs 28,000 crore (Rs 280 billion) in the form of debt and interest payment on central loans."

Banerjee said the Centre was getting Rs 40,000 crore (Rs 400 billion) per year from the state on account of various taxes, and stressed that her government would not bow down despite the central government not acceding to its demand.

"We want justice, we will not bow down or beg," she said.

"When loans were taken by the last government at random, why did they (the Centre) allow?

"I really wonder why they kept quiet. . . Had they prevented it, our government wouldn't have been burdened with a debt of Rs 2.03 lakh crore (Rs 2.03 trillion)," she said.

Mentioning that the state has to fork out a major part of its annual income to pay salaries and pensions, she asked, "How can we run the state if Rs 28,000 crore goes out of the Rs 40,000 crore that we will collect as revenue?

"Can a state be run with Rs 12,000 crore (Rs 120 billion) if the Centre did not respond with assistance?"

Out of the Rs 40,000 crore the state would earn as revenue by the end of this fiscal, it would have to spend Rs 28,000 crore (Rs 280 billion) to pay interest on previous loans and repay the principal, she said.

The Bengal government maintains that the state, like Punjab and Kerala, is 'debt-stressed' and should be given aid.

Banerjee also held the Centre responsible for price rise.

"We have increased our revenue collection to Rs 40,000 crore through better management of economy and not by imposing taxes and burdening the people.

"It is the Centre which is responsible for the price rise.

"They are hiking prices of everything - diesel, petrol, cooking gas and fertiliser," she said.

"In 2010-11, before the Trinamool Congress-led government came to power in the state, tax collection by the Left Front government stood at Rs 21,000 crore (Rs 210 billion)," she added.
Image: Mamata Banerjee