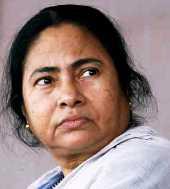 Railway minister Mamata Banerjee discussed with Bangladesh Prime Minister Sheikh Hasina on Monday ways of developing rail connectivity with that country to further enhance ties between the two neighbours.
Among the proposals considered on Monday includes a project to construct a railway link between Rohanpur and Singhabad to facilitate transit traffic from Bangladesh to Nepal through India. Railway ministry sources indicated that the ministry had no objections to opening the additional transit route to Bangladesh.
"We have no reservations to open the Rohanpur-Singhabad route. Procedures, however, have to be initiated to obtain the requisite clearances from the ministry of external affairs, customs and security authorities," an official in the railway ministry said.
The Bangladesh prime minister arrived in New Delhi on Sunday on a three-day visit to India.
Also discussed day was the trans-Asian rail connectivity project between India, Bangladesh and Myanmar.
Indian railway network can be conjoined with the Bangladeshi network at Akhaura near Agartala by adding 13 km of missing rail track. India has completed its portion of the survey.
The project had been of controversy in Bangladesh till date. However, if implemented it would facilitate continuous link to Myanmar and China.
Among other issues discusses was a proposal to extend $200 million in credit to develop rail infrastructure in the neighbouring country and projects to strengthen the Chittagong-Dhaka route on a priority basis as it is a revenue-generating corridor.
Banerjee and Hasina also discussed on promoting container traffic via rail between the two countries.
At present, containers from India to Bangladesh are transported by ship via the Mumbai-Singapore-Chittagong route and then on by road to Dhaka. Transporting containers by rail would reduce both transit time as well as expenses substantially.
Image: Mamata Banerjee