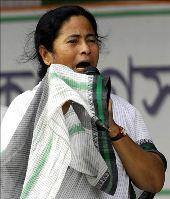 West Bengal Chief Minister Mamata Banerjee said on Thursday that her government was giving emphasis on building proper infrastructure for attracting more investment to the state.

"The proper infrastructure will also help develop the socio-economic status of the region," the chief minister said inaugurating the new terminal building of the Aerotropolis project at Andal in Burdwan district.

She named the building after Bengal's much loved poet and songwriter Kazi Nazrul Islam.

Mamata announced that over Rs 10,000 crore (Rs 100 billion) would be invested in developing the Aerotropolis project which, she felt, would ultimately change the industrial scenario in the region comprising Burdwan, Birbhum, Bankura and Purulia distracts.

Such infrastructure would help set up many new industries and develop new coal mines generating employment opportunities for over 100,000 people, she claimed.

The chief minister reiterated her resolve not to allow bandhs or strikes to put a spanner in the state's development works.

She also inaugurated a helicopter service from here, expressing hope this would connect different industrial hubs around including Haldia, Dhanbad and Jamshedpur by air.

The helicopter service would also boost tourism and other industries by networking the Sundarbans, Santiniketan and other important destinations around, she said.
Image: West Bengal Chief Minister Mamata Banerjee