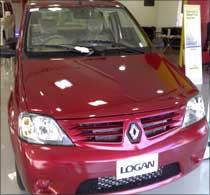 Home-grown auto major Mahindra & Mahindra on Thursday said it will launch three new products under different categories by March 2011. The company, in a joint venture with French car giant Renault, is also considering to launch a new product in the Indian market. The JV's existing product Logan is expected to witness a decline in sales during the current fiscal year.
"Our passenger car business (Logan) is doing lower than the industry estimates and we will see a degrowth in the segment during the fiscal," M&M president (automotive sector) Pawan Goenka told reporters on the sidelines of Federation of Automobile Dealers Associations (FADA) annual convention in New Delhi.
"Construction of our upcoming Chakan plant is on track and production will start by November. The first product to be launched is a small four-wheeler loader under one tonne category by January 2010," Goenka said on new product launches.
The company would also roll out a truck and a new sports utility vehicle (SUV) by the end of fiscal year 2010-11.     When asked about any new product launch under its joint venture with Renault, Goenka said, "we are in talks with Renault to bring in a new product in the JV, but nothing has been finalised." The JV depends on what Renault would decide about its long-term strategy regarding India, he added.