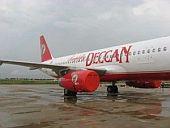 As competition in the low-cost carrier (LCC) space increases, many of them have doubled their advertising spending, increased promotional offers and even gone in for a completely new look and feel, as they take on growing competition from the likes of Kingfisher, Jet Airways and Air India. 
Spice Jet, for instance, has doubled its ad spending from 2 per cent of its turnover last year to close to 5 per cent this year. This July, for the first time, the LCC began considering a television campaign as it moves away from only price point or promo-driven advertising to promoting its brand and services. 
Likewise, in the past two months, GoAir has increased the pace of its promotional offers to every fortnight, increasing its load factor during the period from 5.4 in June to 5.7 in July. And this in spite of full-cost carriers like Jet Airways and Kingfisher expanding their existing budget operations. Besides, promotional offers, GoAir has also gone in for a complete new look and feel that includes a logo change and new uniforms for its staff, changing the look from informal to formal attire. 
Even the three-year-old Indigo Airlines launched its first TV commercial this April, showcasing the airline running a smooth operation and catering to demanding consumers' service expectations even though it offered a low-cost service. 
"Competitive pricing is passe," says a GoAir spokesperson. The airline is now giving its consumers value-added services like GoBusiness, where consumers have to pay Rs 1,000 more for a business class experience over the economy flight ticket rates and GoFlexi, a facility that gives consumers the flexibility to plan their flight date with zero re-scheduling charges. 
SpiceJet's new campaign revolves around the theme 'Get more when you fly SpiceJet'. The airline is focusing on emotional appeal to consumers by talking of its brand services and experiences like providing safety, on time service and hot beverages on board, a service it has recently introduced. Anish Srikrishna, senior vice president and head of marketing at SpiceJet explains: "Our new communication aims to cut through the clutter of price-based competition that has threatened to commoditise brands." 
The growing competition in the space is evident. Earlier this year, Kingfisher launched a tongue-in-cheek outdoor and digital media campaign that took a potshot at LCCs. For example, hoardings of a carrier saw the left side reading, 'Indi-fferent', while the right side said 'Different', followed by a 'Why fly low-cost carriers? Fly Kingfisher' caption. Another ad saw the left side display 'Go Hide' and the right side said 'Fly with Pride', again followed by the caption, 'Why fly low-cost carriers? Fly Kingfisher'. 
The fleet of budget airlines is expected to double from 75 at the start of the year to over 150 by year-end. 
"Over 98 per cent of the Indian population does not travel by air and making price points affordable is the only option that carriers have to migrate people to use the service. Besides, with growing competition, airlines will have to build their brands and create awareness as they sell directly to the consumers," concludes Captain G R Gopinath, the pioneer behind India's first LCC service, Air Deccan, later acquired by Kingfisher and renamed Kingfisher Red.