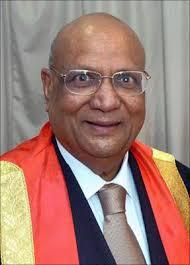 Making a strong pitch for clean corporate governance and probity in politics, UK-based non-resident industrialist Lord Swraj Paul has said the 'cancer' of corruption cannot be stamped out of India unless givers of bribe are held responsible equally as the takers.

He lauded the passage of the Companies Bill 2012 by Parliament recently, the biggest change in corporate law since 1952 which is expected to enhance transparency and attract international investments to India, but said these legislative changes will work only if business leaders 'embrace not only the letter of law but also its spirit'.

Corruption in certain countries has destroyed the fabric of society for ordinary people and lowered the prestige of those nations internationally, the Chairman of the two-billion pound Caparo group said in London while delivering the inaugural Dr Stya Paul lecture, instituted in the memory of his brother and leading educationist.

Referring to scams like 2G and coal block allocations, he said, "Corruption is cancer. . .There can be no tolerance of corruption at any level or any scale. It is divisive and corrosive. . .

"As we have all read, India's recent rapid economic development has been plagued by increasing corruption in both the private and the public sector and between the two.

"Perhaps what gets less comment is that all parties to an act of corruption are responsible." Maintaining that corruption cannot function in isolation, he said that in a society where corruption is endemic and one wants to get something done, then it is all too tempting to offer a bribe.

"But corruption will never be stamped out unless it is acknowledged that the giver is as much to blame as the taker.

"Both must be equally exposed to public scrutiny and the rule of law. Please remember, it does take two.

"While demand side is local, a large part of supply side comes from the foreign enterprises that see it as a way to obtain easy short cuts," Lord Paul said.

While India has to curtail its side, those who do business in India have to be more conscious that they should be less part of the problems and more part of the solution, the business magnate said.

"Just as in business, our political leaders must recognise that others look at them as an example.

"I have seen how corruption in certain countries has destroyed the fabric of society for ordinary people and lowered the prestige of those countries internationally.

"In India I have been actively fighting corruption since 1982," he said.

Citing the example of Britain, he said even there, "we have had our difficulties. Corruption extends well beyond simple monetary gain to the abuse of power."

He spoke about the need for accountability, transparency and honesty in corporate governance. "In 2009 when I was addressing an audience at Federation of Indian Chambers of Commerce and Industry, somebody had asked me a question about what has caused the 2008 financial crash.

"I had talked about the dishonesty of bankers then, which had raised a lot of eyebrows but now the world recognises it.

"These were not businesses behaving properly," he said.

"Therefore, in today's world, where companies are answerable to a much wider group of stakeholders than before, they cannot ignore governance.

"And setting up of structure, committee and rule book is not enough. You need leadership, accountability, transparency and honesty.

"And the owners, the chairman, the chief executives and the board all need to lead by example," he said.

Just as in business, he said, the political leaders must recognise that others look to them as example.

Their behaviour must be and must be seen to be 'unimpeachable at all times,' he said.

Talking about education, Lord Paul, who is also the Chancellor of the University of Wolverhampton and University of Westminster, said it should be internationalised to bring quality and vigour to the academics.
Image: Swraj Paul