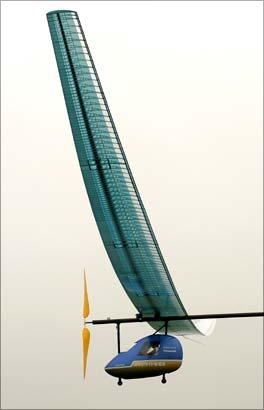 The world's fist glider-like plane powered by normal dry-cell batteries flew almost at a height of 5 meters, managing to stay airborne for almost a full minute and covering a distance of 390 meters at the Honda airport in Saitama, Japan on Sunday.
The demonstration flight saw the single-seat craft -- with a wing span of 102 feet -- taking off, using 160 Oxyride dry-cell AA batteries. The Oxyride battery is about 1.5 times more powerful than an alkaline battery.
The plane has been developed by the Tokyo Institute of Technology in collaboration with the Panasonic Project.
The first manned aircraft powered by 160 Oxyride Dry Cell AA batteries.
Photograph: Koichi Kamoshida / Getty Images