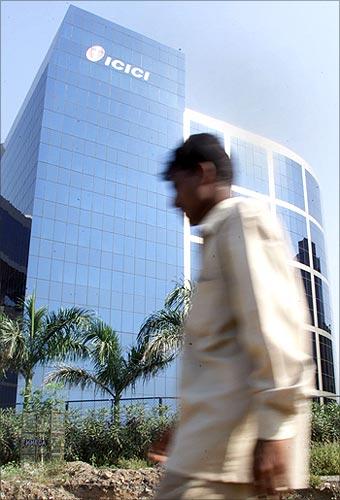 ICICI Bank's move to amalgamate Bank of Rajasthan (BoR) with itself at a 1:4.72 ratio indicates the bank would pay a premium of 89.4 per cent to Bank of Rajasthan's closing stock price on Tuesday.
The proposed swap ratio values BoR at Rs 3,040 crore, translating into a per branch value of only Rs 6.57 crore, given its 463 branches.
In contrast, HDFC Bank had paid around Rs 23 crore (Rs 230 million) for every branch of Centurion Bank of Punjab when the deal was sealed in February 2008. In this context, the deal looks to be a steal for ICICI Bank.
On the other hand, the per branch market valuation of Karnataka Bank and South Indian Bank work out to Rs 3-3.5 crore (Rs 30-35 million). The two banks are old-generation private banks like BoR.
However, analysts said the market was perhaps giving a lower value to the two banks, as it takes Rs 2-3 crore (Rs 20-30 million) to set up a branch. And, typically, over 12 months to break even.
The deal, if approved, would increase ICICI Bank's equity capital by 3.07 per cent to 1.15 billion shares. As BoR is a loss-making entity, the merger will be marginally negative in terms of earnings. This means ICICI will have to slog in the initial months before the benefits of the deal accrue.
The immediate benefit will be a 23 per cent increase in ICICI Bank's branch network, especially in North India, where 60 per cent of BoR branches are located. This is of key importance, considering that ICICI has now moved to a branch-led business model.
The acquisition will help ICICI increase CASA (current and savings account) flows, as also help in cross-selling products. With both banks working on the Finacle platform, integration will also be less taxing.
What's more, with nearly 2,500 branches, ICICI Bank will steal a march over its nearest private sector rival, HDFC Bank, which had 1,725 branches at the end of March.
PTI adds: The total business of ICICI Bank will cross Rs 4 lakh crore (Rs 4 trillion) after its takeover of the Bank of Rajasthan.
Post merger, ICICI Bank branches will rise to 2,470 with the addition of 463 branches of the Bank of Rajasthan.
ICICI Bank has a presence in 18 countries and has over 2,000 branches.
Bank of Rajasthan's total business was about Rs 23,000 crore (Rs 230 billion) at the end of 2008-09. ICICI Bank has reported a total business, which include loans and deposits, of Rs 3.83 lakh crore (Rs 3.83 trillion) as on March 31, 2010.
Bank of Rajasthan is worth Rs 1,500 crore (Rs 15 billion) as per its share price today. The scrip surged 20 per cent to Rs 99.50 on BSE.
In comparison, ICICI Bank is valued at close to Rs 100,000 crore (Rs 1 trillion). Its shares fell 1.45 per cent to Rs 889.35. The board of the banks have given in-principle approval to the merger, a final view will be taken on May 23 after receiving the report of the valuation consultant Haribhakti & Co.
Bank of Rajasthan, which was founded in 1943, is going through a rough patch since its promoter Tayal family and Group companies were barred from accessing the market by Sebi in March for mis-declaring its holding in the bank. Following the merger, the Tayal family will quit the Bank of Rajasthan.