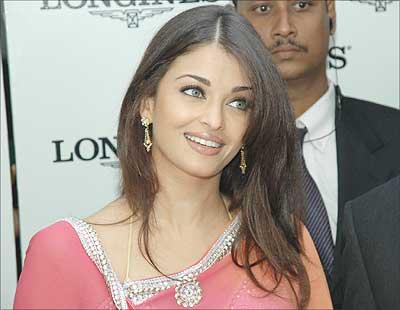 Longines, the 175-year old Swiss watch manufacturer opened its first exclusive 'Longines Boutique' in India at the ITC Park Sheraton & Towers, Chennai. The Brand Ambassador of Longines, Aishwarya Rai inaugurated the boutique.
Claude Jaunin, regional manager, Asia Pacific for Longines disclosed that, "Chennai is a key market, and promises immense potential to Longines in India. Here, our customers will experience the world of Longines."
The major attraction is that the very latest collection of vintage style time pieces, the Longines BelleArti, based on Art Deco watch of the 1920s, will be available at the exclusive boutique.
The exclusive diamond Longines BelleArti timepiece has 1162 diamonds on the bracelet (5.81 carats) and 263 diamonds on the case (3.453 carats) making a total of over 9.26 carats on the watch.
Inaugurating the boutique, the Rai said, "Longines personifies timeless beauty and elegance and these are qualities I feel every Longines wearer endorses. It is an honour for me to be associated with Longines and be a part of this magnificent initiative in a city that is really close to me. The décor of this boutique is a perfect blend of the qualities that Longines stands for."
Longines Boutique at the ITC Park Sheraton & Towers, Chennai was inaugurated by brand ambassador Aishwarya Rai
Photograph: Shreeram Selvaraj