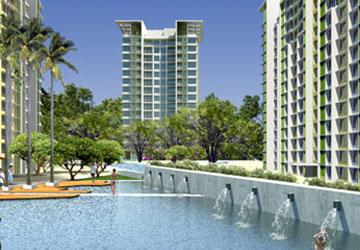 Lodha Developers on Thursday said it has completed the acquisition of 17-acre prime land in Mumbai from realty major DLF for Rs 2,725 crore (Rs 27.25 billion) -- the largest realty deal so far this year.
In August, DLF had announced sale of this land parcel to Lodha Developers for about Rs 2,700 crore (Rs 27 billion), almost four times higher than the price it had paid in 2005.
India's largest real esate company DLF had bought the land from National Textile Corporation for Rs 703 crore (Rs 7.03 billion) and it decided to sell this piece of land as part of the strategy to exit from non-core business.
Lodha had paid Rs 500 crore (Rs 5 billion) as advance to DLF in August. In a statement, Lodha said that the company "has completed its planned acquisition of the prime 17-acre Mumbai Textile mill property at Worli from DLF Ltd".
Lodha had entered into a binding agreement with DLF to acquire DLF's arm Jawala Real Estate, which owned this land.
"This transaction, which was expected to complete by the end of October, has been concluded as per the envisaged timeframe.
"The acquisition is for a consideration of Rs 1,225 crore (Rs 12.25 billion), while additional Rs 1,500 crore (approx) has been paid to DLF against their loans utilised for project expenses," the statement said.
"Our strong internal cashflows have enabled us to make the entire payment, without taking any high cost funding. We thank all those who have trusted us and supported us in this transaction," Lodha Deputy Managing Director Abhinandan Lodha said.
The construction of the project, with five million square feet of saleable area, is undergoing and the company expects to open bookings in the next 2-3 months.
During last fiscal, Lodha achieved over Rs 5,000 crore (Rs 50 billion) in sales, delivered 3 million sq ft of area and spent over Rs 1,600 crore (Rs 16 billion) for construction.