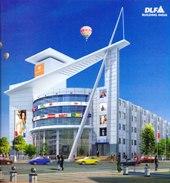 DLF Ltd, India's largest real estate developer, has been in the news for giving loans and advances to one of its joint venture partners.

A study of the balance sheet of leading real estate companies shows many of its peers have also made it a common practice.

In 2011-12, loans and advances accounted for nearly a quarter of the consolidated assets of India's top real estate companies.

DLF is, in fact, better placed than many of its peers, as loans and advances accounted for 18 per cent of its consolidated assets during the last financial year, against Unitech Ltd's 51 per cent, Sobha Developers Ltd's 47 per cent, Godrej Property Ltd's 32 per cent and Housing Development & Infrastructure Ltd's 28 per cent. (See table).

The total outstanding loans and advances of India's top 12 listed real estate companies were around Rs 30,000 crore (Rs 300 billion) at the end of FY12, a threefold jump from Rs 10,600 crore at the end of FY07.

During the same period, DLF's loans and advances doubled to around Rs 10,000 crore (Rs 100 billion) from Rs 5,233 crore (Rs 52.33 billion) at the end of FY07.

According to analysts, loans and advances have been a common industry practice to grow the business, especially of those operating in the commercial space such as offices, hotels and malls.

"In the commercial segment, the developer needs to invest money upfront in erecting the structure.

"The revenue from sale or rental of office or commercial space starts flowing in only when project gets completed.

"This time gap between expenses and revenue is filled either by bank borrowing or a loan/advance from its parent company if the project is owned by a special purpose vehicle (SPV)," said Dhananjay Sinha, co-head,
institutional research at Emkay Global Financial Services.
The money lent to subsidiaries, associates and joint-ventures show up as loans and advances in the parent company's balance sheet, in this case DLF.
Given the legal complexities, most large real estate projects are developed through joint ventures or special purpose vehicles either to mitigate risks or mitigate regulatory restrictions on land ownership.
There is ample opportunity for these kind of transactions in DLF, given its size and spectrum of operations.
At the end of FY12, the company had 315 subsidiaries, joint-ventures, associates and partnership firms.
Its annual report for FY12 lists another 113 firms, controlled or owned by its management personnel or relatives.
A financial transaction with any of these 428 firms comes under the umbrella of related party transaction.
Another issue with DLF is that it is not only an operating company, but also a holding company for its new businesses and diversifications.
Given this, analysts said it's not unusual for DLF to provide loans or advances to joint ventures and subsidiaries as start-up capital.
"Holding companies can leverage their bigger balance sheet to raise loan at a lower interest than what it will cost to a start-up joint venture or subsidiaries.
"DLF can then lend this at a slightly higher rate to its subsidiary or the joint venture. This is a win-win for both parties," said Sinha.
DLF shareholders gain by earning higher interest rate than what DLF could earn if it had invested its surplus cash in money market mutual funds or government bonds, and the joint venture gets access to low-cost capital.