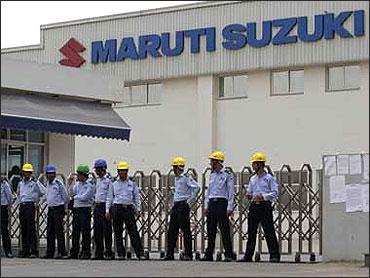 Worried over the large scale violence on Wednesday that claimed the life of a senior official, Maruti Suzuki India may be considering a lockout as one of the options for now.
However, the company ruled out packing up from this industrial belt in Haryana for Gujarat in view of the recurring violence here.
Production at the Manesar plant, which suffered huge damage to its offices in the arson on Wednesday, remained shut for the second day today although cars manufactured prior to the violence were dispatched.
"Suzuki Motor Corp has asked us not to compromise on violence...we are cooperating with the police and district administration in the investigations... if this is found to be planned and orchestrated from outside, I can't accept this," Maruti Suzuki India (MSI) Managing Director Shinzo Nakanishi told PTI.
However, MSI Chief Operating Officer (Administration) S Y Siddiqui said that while in the long term the company was committed to the smooth operations of the plant at Manesar, "in the short term we are considering various options, including a lockout".
In Chandigarh, after a cabinet meeting Haryana Chief Minister Bhupinder Singh Hooda said stern action would be taken against those found guilty.
In Wednesday's violence, GM (HR) Awanish Kumar Dev was burnt alive in the arson in the office premises after workers protested against suspension of a staff. 100 others including a number of senior executives were injured in the violence.
Gurgaon Chief Medical Officer Dr Praveen Garg said 35 people were still being treated in different hospitals. Of them three are in ICU.
"About 25 of them have fractures mostly in the upper part of the body. Many have head injuries and have been given stitches," Garg said.
Over 90 workers were arrested yesterday in connection with the violence. They were slapped with charges of rioting, murder, attempt to murder, assault and trespass.
Nakanishi, however, said that there would not be any knee-jerk reaction from the company to the incident.
"Our commitment to the investments in Haryana remains. We will continue with the unit C expansion in Manesar, so is with R&D in Rohtak and the diesel engine plant at Gurgaon," Nakanishi said.
In March this year, MSI had announced investments of Rs 2,600 crore to set up a new diesel plant at its Gurgaon facility and to expand R&D activities at Rohtak by 2014. The company had earlier announced investments Rs 3,625 crore to set up two new units at the Manesar plant, out of which one unit became functional last year.
When asked if the company hasn't set a timeline for resumption of production at the plant, Nakanishi said: "That's true...I don't know when we will start production at Manesar."
"While our basic objective is to restore operations at the plant as soon as possible, we need to understand that many of our employees are injured and are in a state of shock. We need to take care of them first," he said.
Commenting on the situation at the plant, Haryana Industry Secretary Y S Malik said: "It is not a lock out. First they (company) have to put things in order first."
During the day, a delegation of different labour unions belonging to different companies in Gurgaon-Manesar belt, including Honda Motorcycle and Scooter India, Sona Koyo, Rico Auto and Suzuki Motorcycle India, met Gurgaon DC demanding a CBI probe into the incident.
They also said "innocent" workers must not be harassed by the police.