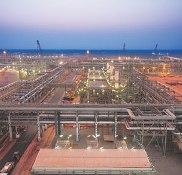 State-run insurance giant LIC and the government of Singapore have hiked their stakes in Reliance Industries with the purchase of shares worth over Rs 1,550 crore (Rs 15.50 billion) during the last quarter.
Life Insurance Corp of India (LIC) increased its stake in Mukesh Ambani-led Reliance Industries ltd (RIL) from 7.09 per cent to 7.77 per cent during the quarter ended June 30, 2012.
During the same period, the government of Singapore also raised its RIL holding marginally from 1.06 per cent to 1.22 per cent.
At the current market price, the additional shares purchased by LIC during the quarter are worth about Rs 1,450 crore, while that of Singapore government is worth about Rs 100 crore (Rs 1 billion).
LIC's holding in RIL now stands at about Rs 25.2 crore (Rs 252 million)  -- rising by close to Rs 2 crore (Rs 20 million) in April-June quarter, while Singapore government's RIL holding has risen by more than 15 lakh shares to 3.94 crore during the period.
On the other hand, the holding of another major non-promoter shareholder, Franklin Templeton Investment Funds, in the company declined marginally by 4.26 lakh shares (worth about Rs 31 crore) to 1.22 per cent.
The promoter holding in RIL rose by 0.4 per cent to 45.15 per cent during the quarter. The total FII (Foreign Institutional Investor) holding in RIL, however, declined fr om 17.55 per cent to 17 per cent, as they sold shares worth an estimated Rs 1,300 crore (Rs 13 billion).
At the same time, the overall holding of DIIs (Domestic Institutional Investors) rose from 10.71 per cent to 11.2 per cent.
RIL shares were trading on a sluggish note at Rs 726 this afternoon, down 0.24 per cent from Thursday's close, ahead of the company's first quarter results later in the evening. The company current commands total market valuation of close to Rs 2,37,700 crore (Rs 2.37 trillion).