LG Electronics India Private Limited, a wholly-owned subsidiary of LG Electronics, will be launching 35 to 40 new mobile models this calendar in India, according to Vishal Chopra, business head (mobile communications).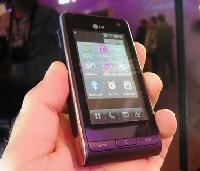 "As part of our mixed product strategy, we are focusing on mid and high-end phones. Of the 40 new models that we are lining up for the domestic market, 10 to 12 models will be 3G-powered with a price tag of between Rs 8,999 and Rs 35,000," Chopra told mediapersons here on Thursday.

Mobile phones as an industry, Chopra said, was dynamic in nature and there was a shift from feature-rich phones to smart phones. Smart phones accounted for 2-3 per cent of the total mobile phones sales in India, which would touch 15-20 per cent this year.

"We are seeing the trend of more sales in the high-end category, which will give us a value growth," he said, adding the company at present was enjoying an eight per cent share of the Indian market, and expected this to grow to 10 per cent in the current January-to-December financial year.

The company would be adding four more 3G-enabled variants to its LG Optimus series by March-April this year, besides looking at sub-Rs 10,000 models in the near future, he said, while declining to comment further.

Chopra said the company had earmarked Rs 250 crore (Rs 2.5 billion) towards above-the-line (ATL) and below-the-line (BTL) activities, including Rs 100 crore (Rs 1 billion) for the ongoing ICC Cricket World Cup and retail development for the current financial year.