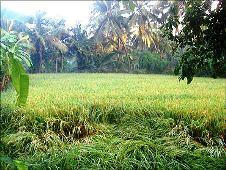 We're far ahead of you, is the Gujarat government's reaction to the central government's proposed Bill on land acquisition and the associated relief and rehabilitation of those displaced.

"We had anyway been asking industry to buy 100 per cent land on their own.

Only in the case of public infrastructure did the government facilitate purchase. Hence, Gujarat would not have to make much changes post the Bill," said C L Meena, revenue secretary.

Saurabh Patel, minister of state for industries, said, "We are already acquiring land with prior consent. Which is why we don't have any land acquisition issues."

The state government believes the new Bill would help farmers and guard their interests in a better way that hitherto.

"Industry will have to pay higher compensation," added Meena. However, business chambers in the state are as critically concerned as counterparts elsewhere on the new central Bill.

"Both agriculture and industrialisation is equally important and government's role in this is inevitable.

"Industry, especially the emerging sectors and enterprises, need government support.

"If there is no government intervention, small and medium enterprises and emerging firms will not be able to expand and only the large corporates will eat into land acquisition process," said J V Adhia, vice-president, finance, at Rajkot-based Atul Auto Ltd. It is scouting for 22 acres for an upcoming manufacturing facility.

The new central Bill is important for Gujarat as a large number of industrial investments are in the pipeline.

A number of automobile majors are already in discussion with the state government for land --
after Ford India and Peugeot Citroen announced factory plans, Maruti Suzuki and Bajaj Auto are looking at locations.
The proposed requirement of consent from 80 per cent of the public for all acquisitions beyond 100 acres and the remuneration issue has been a major concern for industry.
The bi-annual Vibrant Gujarat Global Investors' Summits over the past decade have seen investment promises made worth Rs 35,00,000 crore (Rs 35,000 billion).
All these would first require land.
"In Gujarat, the investments need not be affected much, as the state government would step in at the right time.
"But the mood and tempo of industry will definitely get a beating. We are sacrificing one section for other without taking into consideration the share in overall GDP growth," said Y R Sharma, industrialist and former chairman of the Gujarat chapter of the Confederation of Indian Industry.
And, farmer leaders here have also given a thumbsdown to the proposed Bill.
"It is better than the earlier draft but cannot be called profarmer. Land is a lifeline for any farmer," said Kanu Kalsaria, a rebel ruling party MLA from Bhavnagar district, who's leading a farmers' agitation against Nirma's proposed cement plant in Mahuva.
Kalsaria insisted farmers having cultivable land should not be asked to sell it for industrial purpose. "Industries should be given wasteland and not cultivable land," he said.
And, the Bharatiya Kisan Sangh said the Bill's supposedly pro-farmer provisions were an eyewash.
"It is easy for corporates to manipulate farmers and make them sell their ancestral land. Manipulating 80 farmers out of 100 is not a a big deal for a corporate," said Hasmukh Dabhi, district president of the Ahmedabad BKS.