A day after State Bank of India (SBI) chairman Pratip Chaudhuri told reporters in New Delhi bankers "are blazing all guns and taking all steps" to recover Kingfisher Airlines' loans, the grounded carrier's Chairman Vijay Mallya today hit back. "I seriously wonder what motivates bank chairmen to constantly speak to media on loan recovery from Kingfisher Air. What about others?" Mallya tweeted.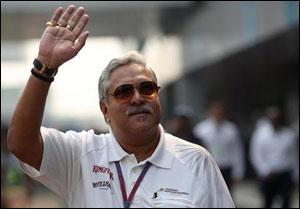 Mallya took a dig at Chaudhuri by saying, while the SBI chairman had all guns blazing on loan recovery, all his guns were blazing on restart and rehabilitation of the airline. "Why should we be denied a chance?" he asked.
Public sector banks have an exposure of over Rs 7,000 crore (Rs 70 billion) to Kingfisher and have initiated the process to recall loans. SBI has the maximum exposure of Rs 1,600 crore (Rs 16 billion). The airline owes Rs 800 crore (Rs 8 billion) each to Punjab National Bank and IDBI Bank.
This is not the first time the Kingfisher management has criticised lenders. In the last meeting when bankers decided to recall loans, the airline's management told reporters that "we don't conduct negotiations through media".
Lenders had waited over a year before declaring Kingfisher as a non-performing asset. Several meetings held between the bank and the airline management couldn't make any headway. Thereafter, lenders decided to recall the loans.
The Directorate General of Civil Aviation had suspended Kingfisher's flying permit last October following a strike by its engineers who refused to certify the airworthiness of aircraft over non-payment of salaries. Even before that, the airlines schedule had gone haywire due to frequent disruptions by its employees.