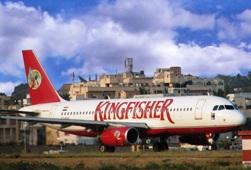 Kingfisher Airlines owes over Rs 200 crore (Rs 2 billion) to the Airport Authority of India, Parliament was informed on Thursday.

In a written reply to the Rajya Sabha, Civil Aviation Minister Vayalar Ravi said Vijay Mallya-promoted Kingfisher Airlines along with Paramount Airways did not settle dues on a regular fortnightly basis.

"Their dues exceeded the security deposit/bank guarantees available with AAI," Ravi said.

As per the details provided by the minister, as on June 30, 2011, Kingfisher Airlines owes Rs 208.06 crore (Rs 2.08 billion), while Paramount Airways owes Rs 5.72 crore (Rs 57.2 million) to AAI.

On the actions taken by the government for recovery of the dues from these two airlines, Ravi said, "Operations of both these airlines have
been put on 'cash and carry' basis, bank guarantees submitted by these two airlines have been encashed, penal interest is charged on account of delay in settlement of the bills."
Responding to another query, Ravi said the amount due to AAI from private airlines is Rs 345.27 crore (Rs 3.45 billion), which includes the dues from Kingfisher and Paramount.
In addition, Go Airlines owes Rs 6.23 crore (Rs 62.3 million) to AAI, while Indigo, Jet Airways, Jet Lite, Spicejet and others need to pay Rs 10.44 crore (Rs 104.4 million), Rs 57.66 crore (Rs 576.6 million), 13.71 crore (Rs 137.1 million), Rs 16.07 crore (Rs 160.7 million) and Rs 27.38 crore (Rs 273.8 million), respectively.
Further, he said as on June 30, 2011, private airlines owed oil marketing companies Rs 1,518.15 crore (Rs 15.18 billion) in dues towards supply of aviation turbine fuel.