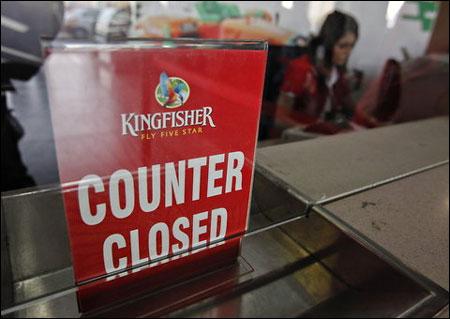 Grounded Kingfisher Airlines on Monday made a last-ditch attempt to preempt a hunger strike threat by its employees, by asking them to wait till Thursday, as airline expects some positive outcome from the hearing on the winding up petition against it, say sources.
The Karnataka High Court is slated to hear the winding up petition by six creditors to the airline on Wednesday. As many as 100 city-based employees of the crippled airline have threatened to go on hunger strike from Tuesday, demanding payment of salaries which have not been paid for the past 14 months. The airline was grounded last October.
Incidentally, the airline's annual general meeting is also scheduled on Tuesday in Bangalore. "The management has asked us to defer our hunger strike plan till Thursday on the plea that it expects some positive outcome from the hearing on the winding up petition.
But as of now, we are firm on our agitation plan," sources told PTI. The agitating employees have asked for a written assurance from the management on the issue, they said, adding, "but so far they have not responded."
The negotiations with the management, however, are still on, they added. The employees received last salary this April for July 2012. They have renewed their agitation for salary dues and served a hunger strike notice to the management early this month.
A bunch of petitions have been filed by six creditors to wind-up the defunct airline for failing to pay their dues in spite of several reminders. The six petitioners include IAE International Aero, Rolls-Royce & Partners Finance and PNB Paribas, which supplied aircraft, components and funds to the airline.
Last week, the lead banker to the 17-bank consortium had filed a petition saying that the airline is a willful defaulter. During the September 17 hearing, Kingfisher had moved an application, seeking the court's permission to release at least one month salary of its employees from the Diageo stake sale proceeds.
"The court is expected to pass some directive in this regard in the next hearing on Wednesday," sources said. As of March, there were 2,851 employees with the carrier which has been grounded since last October.
The airline owes over Rs 7,000 crore (Rs 70 billion) to a group of 17 banks, which were not serviced since January 2012.