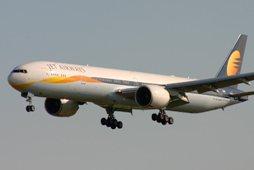 After a profitable first quarter, Jet Airways again slipped into the red, reporting a consolidated loss of Rs 166 crore (Rs 1.66 billion) for the quarter ended September.

The loss, attributable to the lean season and high operating costs, is, however, 77 per cent lower than the Rs 713-crore (Rs 7.13-billion) loss in corresponding period last year.

The results beat analysts' expectations of a loss of Rs 250-300 crore (Rs 2.5-3 billion).

On a standalone basis, revenue rose 25 per cent to Rs 4,190 crore (Rs 41.9 billion), while the airline's margins improved, owing to higher fares compared to the year-ago period.

The fall in losses resulted from higher other income (Rs 57 crore or Rs 570 million) and non-operating income (Rs 382 crore or Rs 3.82 billion), including income from aircraft leasing, profit from sale and leaseback of planes and excise or custom duty concessions.

The company also reported a foreign exchange gain of Rs 69 crore (Rs 690 million).
"Jet Airways has managed to remain competitive through a series of planned steps, including sale and leaseback of aircraft, discontinuing loss-making routes and stringent cost-control measures.
The ongoing initiatives would augment well for the airline's performance," said chief executive officer Nikos Kardassis.
He added these measures had helped the airline post an operating profit of Rs 520 crore (Rs 5.2 billion) on a consolidated basis.
Income from ancillary sources such as advertising and sale of on-board meals and duty-free products rose 20 per cent, the airline said.
Through the last few months, the airline has cut capacity and pulled out of unprofitable international routes, including flights to Johannesburg and New York.
It has also decided to phase out foreign pilots, reducing its staff costs 4.4 per cent.
Overall expenditure, however, rose due to a 17 per cent rise in fuel prices and an increase in lease rentals.
The discontinuation of a few routes resulted in many aircraft remaining on the ground, adding Rs 33 crore to the company's costs.
The airline now plans to lease these aircraft.
"What we are worried about is weakness in demand and a fall in load factors, both in the domestic, as well as international sectors," said Mahantesh Sabarad, senior vice-president, Fortune Equity Brokers.
"The revenue is in line with our expectations.
"The company has managed to contain its operating costs and increase its Ebitda (earnings before interest, tax, depreciation and amortisation)," said Rashesh Shah of ICICI Securities, which had estimated a loss of Rs 318 crore (Rs 3.18 billion).
The Centre for Asia Pacific Aviation had estimated the airline would report a loss of Rs 240-320 crore (Rs 2.4-3.2 billion).