The country's largest private air carrier Jet Airways today posted a net loss of Rs 101.22 crore (Rs 1.01 billion) for the third quarter of 2011-12 on account of rising prices of aviation turbine fuel and rupee depreciation.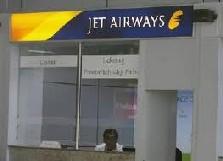 The company had registered a net of Rs 118.23 crore (Rs 1.18 billion) in the corresponding period last fiscal.

"The quarter's results have been adversely impacted due to high ATF prices and a steep decline in the value of rupee against the US dollar. The airlines have been progressively increasing the fare to pass on the rising input cost, including the cost of ATF," Jet Airways said in a filing to the BSE.

The company's loss, however, has narrowed from Rs 713.6 crore (Rs 7.13 billion)
in the second quarter this fiscal.
Furthermore, total income of the company increased to Rs 4,165.88 crore (Rs 41.65 billion) during the December quarter from Rs 3,513.93 crore (Rs 35.13 billion) for the quarter ended December 31, 2010.
"The management is actively pursuing various options to improve the operating results and cash flows through sale and leaseback of aircraft, route rationalisation and cost control measures. The company continues to explore options to raise finances to meet its various short-term and long-term obligations, including financial support to its subsidiary Jet Lite (India) Ltd," it said.
During the nine months to December 31, 2011, the airline reported a net loss of Rs 937.98 crore (Rs 9.37 billion), against a net profit of Rs 134.15 crore (Rs 1.34 billion) in the year-ago period.