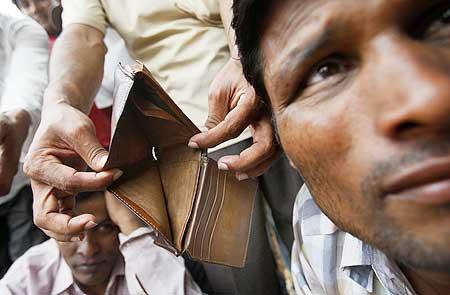 Communist Party of India leader Gurudas Dasgupta met Prime Minister Manmohan Singh on Tuesday along with ten union leaders of public sector units and Aganwadis from Jammu and Kashmir and drew his attention to the fact that 10 PSUs, Aganwadis and Asha units have not been paid for last eight months.
Speaking to rediff.com after a 15-minute-long meeting with Dr Singh, Dasgupta said that the prime minister was not aware of this. "This sort of thing should not happen at all," Dr Singh told the delegation.
"He asked me to see C Rangarajan, chief of the Prime Minister's Economic Advisory Council and meet the Union Home Minister P Chidambaram in this regard," said Dasgupta.
He said the prime minister had assured a delegation of parliamentarians that PSUs would not be allowed to close down and particularly the two major watch manufacturing units, namely, Chinar Watches and Hindustan Machine Tools.
"There are ten PSUs in the state, including Chinar, HMT, Silk Board, etc. There are more then 15,000 officers and workers working in these units. They have not been paid even a single rupee for last eight months. They were not paid even during the Eid festivals," Dasgupta said.
He said that over 40,000 workers of Anganwadis have also not been paid honorarium for last the eight months. They get merely Rs 2,000 per month for their selfless work. The condition of the workers in Asha units in the state of Jammu and Kashmir is no better, added Dasgupta.
Lal Singh, the Congress MP from Udhampur, told rediff.com that he planned to write a letter to the prime minister highlighting the pathetic condition of the PSUs, Anganwadi workers as well as the women employed in the Asha units in Jammu and Kashmir.
Jammu and Kashmir chief Omar Abdullah told Dasgupta, who was on tour of the state few days back, that the state government does not have money to bail out PSUs, Anganwadis and Asha organisations.