Prithviraj Chavan's journey from Raisina Hill to Malabar Hill hasn't been smooth. His Congress party, under fire in the Adarsh Society scam in Mumbai last year, shifted Chavan out from the union cabinet - and made him the chief minister of Maharashtra.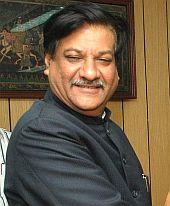 Now, the 65-year-old leader completes a year in office. It's another matter, which he has yet to settle several administrative and political problems.

So much so, there have been strong rumours that Chavan might be recalled to Delhi. Reason: simmering dissent amid party workers. His party MPs, though, appreciate Chavan's style of functioning.

This, even as the man himself concedes that the past year was marked by several challenges.

"But it has also been a satisfying one," he adds, rubbishing news about a possible return to the national capital.

One of Chavan's main challenges was his inadequate administrative experience. Also, he has had very little contact with the state's leaders, including members of the Opposition parities.

Yet, he chose to be quick on decision-making. And all this, while striving to retain transparency in the administration.

"It is a challenge to head a coalition government that consists of stalwarts from both my Congress party and the NCP," he notes.

"It has been completely different from my role in the UPA-I and II. There, it was more about drafting policy, and less of an executive job."

However, things have "improved" after he travelled extensively across Maharashtra and studied his native state's problems.

Going ahead, Chavan's main work will be to maintain the Congress's supremacy in the upcoming civic and local body elections, dubbed as mini polls for any state.

Then, there are economic issues. The state's pre-eminent position in attracting investment is of late under threat from other states such as neighbouring Gujarat.

Further, there are issues of lop-sided growth and upgradation of infrastructure due to rapid urbanisation.

Chavan
is quick to defend the lack of investments in the state. "How can Maharashtra expect each and every investment here when many states are aggressively campaigning for more investments? Still, we have a track record of attracting more investments; we will continue to do so," he says.
The government, he reveals, has cleared nearly 40 projects with a total investment of more than Rs 1.12 lakh-crore.
A new industrial and investment policy is on the anvil. "It will be released soon - for suggestions and objections," he adds.
The CM's other challenges: making the state load-shedding free by next year. It is a "mammoth task".
Also, the government has to ensure that the state's farmers get remunerative prices for their crops. Moreover, there is the task of implementating infratructure projects of $60 billion in Mumbai and Mumbai Metropolitan Region.
Despite environment clearances, the Navi Mumbai international airport is caught in issues relating to land acquisition, even as almost 600 hectare of land is yet to be acquired.
"This will be taken up on a priority basis. So also the development of Chakan international airport," adds Chavan.
On the housing and slums rehabilitation, he says that the government has succeeded in curbing a "growing nexus" between the politicians and builders.
"The decision has been taken for providing additional floor space index in Mumbai suburbs which will help generate more housing stock. Besides, the realty players will have to pay a premium on FSI. The development control rules are being framed for Mumbai," he adds.
The CM says his objective has been to bring in reforms in the realty sector. The government is committed to put in place the regulator for housing sector.
"We are in the midst of taking decision on kicking off the redevelopment of Dharavi sector 5."
On the Congress-NCP alliance, he says the party has yet to take a call whether or not to contest the upcoming civic pools alone or in alliance with the NCP.
"A large number of my party's members are keen for a solo fight," he adds.