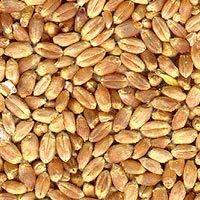 The row with Iran over the presence of rust in the Indian wheat seems to have settled for now. Iran has agreed to purchase wheat from India with 0.25 per cent tolerance to 'Karnal Bunt' rust, as an interim measure.
However, India's proposal to enter into a long-term deal with Iran to export one to two million tonnes annually for at least three years is pending because Iran is insisting on a flat rate, while India wants the price to be linked to international index-based futures.
The Iranians also have some issues over the presence of aflatoxin (a potential carcinogen) elements in Indian wheat, which officials said the Indian side is trying to address.
"The Food Corporation of India does not conduct any tests for the presence of aflatoxin substances. But now that the Iranian side has raised the issue, we would discuss it with the Plant Protection Organisation of Iran and also labs in India," a senior food ministry official said.
Earlier, officials said, Iran was adamant on allowing just transit facility to Indian wheat for sale in Pakistan and Afghanistan but not for self-consumption because of the presence of Karnal Bunt rust.
It wanted a joint study by plant protection organisations from both countries, refused by Delhi, leading to a stalemate in negotiations.
India even considered sourcing wheat from areas where Karnal Bunt was not present, to addresses Iran's concerns.
However, after persuasion, Iran relented and as an interim measure has agreed to import around 200,000 tonnes of wheat by December at $325 per tonne before entering into a long-term
deal.
Officials said the export to Iran would be without any performance bank guarantee from State Trading Corporation and Power Equipment Corporation, the two trading arms of the central government.
"The Iranian side wanted this guarantee from STC and PEC, which was not agreeable to us (Indian side) but they still want a  one-page letter of guarantee signed by these two organisations, to which we have replied that India would get back after STC and PEC consult their legal sides," the official said.
India had been exporting wheat to Iran for several years. However, of late, these got sruck after Iran raised concerns over Karnal Bunt's presence.
With production of a record 94 mt of wheat in 2011-12, the government has been exploring options to reduce stocks from the central pool, to ease its enormous storage crunch.
It opened exports for private traders last year and also decided to export around two mt of wheat for the first time in more than seven years.
Of this, FCI officials said around 300,000 tonnes had already been shipped and 640,000 tonnes approved for exports.
The government also sold around three mt from the central pool in the open market for bulk consumers and others to liquidate its stocks.
As on October 1, the government had 43.1 mt of wheat in its central stocks as against a requirement of 21.2 mt.