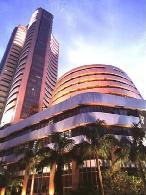 Blue-chips like Reliance Industries, TCS, Tata Steel and Infosys plunged into deep red on stock market on Friday, as investors dumped stocks with significant export exposure after an overnight sell-off in the US market.
Also, the companies with significant exposure to rising interest rates in domestic market witnessed heavy sell-off in their stocks.

The country's most valued firm RIL fell over 3 per cent in early morning trade to touch a low of Rs 786.10 in early morning trade.

Among other major losers, Jaiprakash Associates fell 4.5 per cent to Rs 60.65, Sterlite Industries plunged 4.5 per cent to Rs 144.40 and TCS was down 4.4 per cent at Rs 1049.

The analysts said that investors are concerned over possible impact on Indian companies due to the continuing uncertainty in the US and the overnight
fall in the Wall Street, which witnessed its worst fall in about two and half years on Thursday.
They said that there are concerns that exports could be affected, while the companies would have to borrow at high interest rates here, as foreign borrowings could be difficult.

Stocks like Tata Steel, Hindalco and Reliance Infra also lost more than 4 per cent each, while the losses were more than 3 per cent for Infosys, M&M, Tata Motors and RCom.

ICICI Bank, DLF, Jindal Steel, Wipro, L&T, SBI, HDFC Bank, Bajaj Auto, NTPC, Tata Power, BHEL, Maruti, Hero Honda and HDFC were also trading with significant losses.

In fact, there was not a single Sensex stock trading with gains at 1000 hrs.

Outside Sensex, stocks like Power Finance, Indiabulls Real Estate, BGR Energy, Essar Oil and IFCI were trading over five per cent lower, while heavy losses were seen also in REC, Cairn India and Hindalco.