Outstanding investments in the country's real estate sector were 6 per cent lower at Rs 14.51 lakh crore (Rs 14.51 trillion) in September 2013 as against the same month previous year, according to a study by industry body Assocham.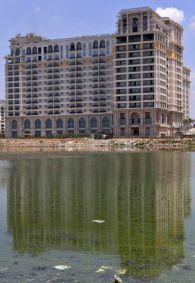 The study also revealed there is likely to be no respite for the realty sector at least till first half of 2014.
"Outstanding investments attracted by India's real estate sector have plummeted from Rs 15.39 lakh crore (Rs 15.39 trillion) as of September 2012 to Rs 14.51 lakh crore as of September 2013 registering significant drop of about six per cent," Assocham said.

According to the study, the real estate sector suffered grave turbulence in 2013 due to a plethora of reasons like rampant economic slowdown both globally and domestically, liquidity crunch, unstable currency, high input costs, labour shortage, high interest rates and growing inflation.

Maharashtra accounted for about 20 per cent share of real estate investments followed by Gujarat (13 per cent), Haryana (11.2 per cent), Karnataka (11.1 per cent), Uttar Pradesh (9.8 per cent) and Andhra Pradesh (9.6 per cent), the study said.

Jharkhand, Haryana, Gujarat, Madhya Pradesh and Andhra Pradesh witnessed maximum decline in investment inflows in realty sector during the year-long period between September 2012 and September 2013.

However, Bihar, Jammu and Kashmir, Assam, Orissa and Uttar Pradesh recorded a surge in investments attracted by realty sector.

To ascertain as to what 2014 holds for realty sector, Assocham took responses from about 1,000 developers, real estate brokers and agents, property consultants and senior officials of various firms in domain.

This was done for 10 prominent cities of Ahmedabad, Bangalore, Bhopal, Chennai, Delhi, Hyderabad, Jaipur, Kolkata, Lucknow and Mumbai.

The responses indicated that there will be no respite for India's real estate sector at least during the first half of the calendar year 2014.

"The situation on real estate front is not likely to improve much owing to an uncertain political scenario at least during the first six months due to forthcoming general elections and poor investor, end-user confidence due to sluggish economic growth coupled with continued high property prices," Assocham said, adding that these reflected views of 60 per cent of respondents.

Consequently, the overall performance of India's real estate sector in the year 2014 is likely to remain subdued as people shall refrain from buying property and developers will continue to grapple with high debt, rising construction costs and unsold inventory, the study said.

Suggestions to revive the sagging real estate sector included putting in place a single window clearance system, evolving a rational structure on payment of stamp duties for sale and purchase of land and properties.

Revision in limit of interest deduction on housing loan of Rs 150,000 introduced by Finance Act 2001 to Rs 500,000 and permitting more foreign direct investment (FDI) in the realty sector are also among the recommendations.