With revenues of $13.4 billion for FY14, Tata Consultancy Services (TCS) has managed to deliver consistent growth for both the fourth quarter and the full year.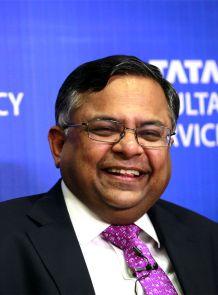 N Chandrasekaran, managing director and chief executive, maintains FY14 was a good year and FY15 will be a better one.
In an interview with Shivani Shinde Nadhe, he talks about demand environment, margin outlook and the growing number of its employee base. Edited excerpts:
You had hinted at a slow quarter but the fourth quarter numbers have been surprising...
The fourth quarter numbers are generally low but we have done well in international revenues, which grew 2.2 per cent.
If you look at the same quarter last year, we reported huge growth (13 per cent) in India, which typically comes towards the end of the year. But because of the elections, cycles have been slow.
We also believe India will be slow till the September quarter. Our manufacturing vertical was also down due to India business.
Although it was largely due to India, we could have grown better in sectors like retail. But as some ramp-up got delayed, retail was hit.
You have maintained FY15 will be a better year. How is the demand environment and what makes you bullish on growth?
The deal pipeline is good. The number of deals we have won and those we are chasing are good. Customers are interested in digital.
We are seeing uptick in the discretionary spends, too. In terms of growth drivers, the US, the UK and Europe will continue to lead growth, followed by Latin America, and APAC (Asia-Pacific).
In terms of engagement, there are three areas where we see growth. First is simplification - optimisation initiatives focused on infrastructure operations and application portfolio; two is digital; and three is regulatory and compliance needs that drive IT spends.
You are also saying digital deals will drive growth. What kind of opportunity do you see?
Although these deals start small, they can become multi-million dollar deals because the digital journey is a programme. And, under that programme, there will be several projects.
Some would involve a multi-channel environment, adopting cloud, etc. I think it's a big opportunity.
We have created a separate business unit and invested in creating IP (intellectual property) in this segment. We also think pricing will increase and are beginning to see this.
We expect digital to be a $3-5 billion opportunity in three years. We do have internal debates on reporting numbers on a quarterly basis and we also understand the need for the same. We are working on it.
Time for TCS to re-look at India?
Things are slow, at this time, because of the elections. Decision-making cycles are delayed.
We have said India will be slow for some quarters. After that, we will see how it pans out.
It will continue to be an important market - this we had mentioned in our pre-earnings analyst meet. I agree India is a difficult market but it is an opportunity and we have to be here.
For FY14 and for the fourth quarter, TCS has managed to maintain high margins. Is it sustainable?
We have said margins will be in the range of 26-28 per cent and continue to maintain that. I don't think currency is a major factor now from an impact point of view.
We have announced a huge wage hike and that will have impact on margins in the first quarter.
From Q2 (second quarter), we will recover. I think as we start winning more digital deals, which come at a higher pricing, it will aid margins. We would like to reinvest into the business rather than show high margins.
TCS has crossed the 300,000-employee mark. What does this number signify for TCS?
I think this is a big opportunity in which people feel that it's a great platform and it creates a positive energy within the organisation.
Also, it offers us a large pool of talent of intellectual professionals and we are able to leverage them better. They can make an impact on the society, and on the company.