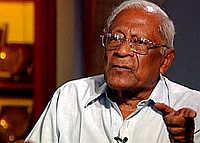 Communist of India's leader AB Bardhan has in an exclusive Interview with Onkar Singh of Rediff.com said that his party would continues to battle against foreign direct investments. "We hope to continue our battle in days to come," he said.

Lot of people who were against FDI have given up their fight?


This is not true. I do not know how this impression has gained circulations. We have decided to continue our fight against FDI. We will fight against UPA government headed by Dr Manmohan Singh.
Recently the Supreme court passed an order against those campaigning against foreign direct investments. What is your take on this?


One thing is clear we will continue our fight against FDI. On 3-4 December we
are holding a convention in Delhi. We are already holding convention at the village level.
Are you worried about entry of Wallmart and Chinese entering India and also American market?


We indeed are worried about entry of Wallmart. China would flood the Indian market. Everything depends on how many Wallmarts come to India. Wallmart has left market in many other countries. So it all depends how many Wallmarts come and how they operate.
What do you think about FDI?


I for one feel FDI liberalisation in the retail sector a result of the talks between prime minister Manmohan Singh and US President Barak Obama in Bali last month. Lack of political consensus to the situation in early 2008 when the UPA's first government was forced by the Left to face votes in Parliament over civilian nuclear agreement with the US.