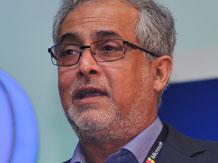 Microsoft India's chairman Bhaskar Pramanik tells Business Standard how India will be at the forefront of the company's 'mobile first, cloud first' strategy, and the renewed focus on the country under the leadership of new CEO Satya Nadella.

Edited excerpts:

Has there been any shift in your business strategy with Nadella at the helm?

Our strategy continues to be what we had announced about two years ago; this is about 'devices and services'. Our vision is unchanged and our mission is unchanged.

So our belief is that our customers are interested in looking at their high-valued activity, and our role is to provide them the devices and services which help them do that.

Our strategy makes us unique because there are some people who are in devices and some others who are in services; but there's none who straddles the two.

What does Nadella think about the India business? Will his presence at the top bolster Microsoft's India focus?

This is a question which has been asked many times, and I think he has also answered it.

Microsoft has always invested in India -- from Bill Gates' time to Steve Ballmer's time.

India has always been important for us, not just from a market perspective but everything else what Microsoft does in India.

So I think India has never been non-strategic; it has always been strategic and that continues.

With the new CEO giving so much importance to cloud and mobility, how has been the cloud adoption in India?

The new generation is moving to smartphone.

This generation is tweeting, using Facebook, sending messages, buying online.

Their (new generation's) entertainment, education and so many other things are being done through some form of devices.

They (new generation) don't have any issues related to privacy, security and they don't even know what the cloud is and they don't even know how it is reaching them.

So in India, consumers have, overtime, become very technology-savvy and for them there is no hesitation in adopting all these technologies.

That's what Nadella said (in his webcast at the first Azure Conference in India on Thursday) that we have a huge opportunity because India is going to be 'mobile first, cloud first'.

How has the penetration of Azure (Microsoft's cloud platform) been in the enterprise segment?

Using social, mobility, analytics and cloud, companies are now trying to look at how they can change the kind of products and services they offer and what new business models can they arrive at.

They are trying to find out how can they look after their customers faster.

These technologies are enabling them to do that. I think there is a huge opportunity that large enterprises are seeing. It's no longer about cost reduction alone.

In the Indian context, Microsoft is more perceived as a company focused on large enterprises than small and medium businesses. Is 'cloud' changing this mindset?

We are extremely serious about the small and medium business sector.

Tomorrow (Friday), we will be making some announcement, which is targeted directly at SMBs.

There are many such programs we have.

However, I think technology adoption by SMBs has been very low in.

That is because of the complexity of technology. But the new world of the cloud has removed that barrier.

You can now have Microsoft Office 365 delivered to you as a service at your desktop, on your mobile, tablet or on any other device.

Nadella believes India has the opportunity to leapfrog to cloud-based technologies, especially in the SMB to take advantage of the huge cost reduction.

What is Microsoft's presence in the analytics space?

We look at analytics from a slightly different perspective. Most companies are looking at solving problems of data-warehousing and business intelligence from the perspective of an industry or an account.

People who are actually using that information need to take decisions and, therefore, they need that information accessible.

It is not just about the data that the customer has; he also needs to marry that with the data that's available outside, like on Twitter feeds, Facebook, government data, and be able to merge all of that together to take a well-informed decision.

That's what we do.

So if you think about a user-level analytics, that's Microsoft's core strength.
Image: Bhaskar Pramanik; Photograph courtesy: Business Standard