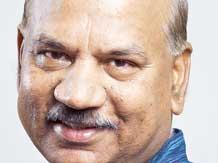 As the chairperson of SKS Trust, the largest shareholder in SKS Microfinance, Biksham Gujja created a stir by announcing they wanted to nominate Vikram Akula, the ousted boss who had founded the company the latter founded, as its representative on the board.

Gujja, known to be close to Akula, is at the centre of a brewing battle with SKS Microfinance, which has rejected the trust's demand for membership on the board.

A social scientist, Gujja opens up for the first time on the challenges ahead and his relation with Akula, in an email interview with Business Standard.

Edited excerpts:

As there seems to be resistance to Vikram Akula coming to the board of SKS Mircrofinance, are you ready to consider someone else?

Vikram is uniquely qualified.

He is a pioneer in microfinance, has stellar academic credentials and has extensive practitioner and research experience.

For borrowers, he is still the face of SKS.

If he is not qualified to be in the company he started and nurtured, I would like to know who else is more suitable?

For microfinance, I can't think of anyone better. His nomination is final.

Having said that, I would like to know what specific concerns, if any, the board, has. We would be happy to discuss their concerns.

There is a perception that Akula calls the shots in the trust, that you are a puppet.

Puppet?

This is an amusing question.

After all, I gave Vikram his first job and I trained him in rural development.

He has in fact written in his book, A Fisftul of Rice, that I am his mentor.

You can be rest assured that I am my own person. SKS Trust's decision are taken by me and P Niroop, an eminent Supreme Court advocate.

Ask anyone who knows us and they will tell you we are nobody's puppets. Of course, we certainly ask Vikram for his views. After all, he founded SKS Trust and gave all the sweat equity of the company to the trust. He was also the founder of SKS Microfinance.

Some are concerned the Trust has been misgoverned.

This is a false report. Let me read an email I received from the SKS chairperson, P H Ravikumar.

He wrote: "None of the members of our board of directors, including the executive management, have made the statement attributed to us."

SKS Trust is run professionally and has very strong governance. We have solid checks and balances.

We consult with the country's top law firms on decisions and our independent advisors are from the Big Four accounting firms (PricewaterhouseCoopers, Deloitte, KPMG and E&Y). We will not tolerate slander.

How have the members benefited from trust activities?

SKS Trust supports development targeted at self-help groups of borrowers from SKS Microfinance.

Our activities include education, health and livelihood support and have so far reached thousands of beneficiaries in Andhra Pradesh, Odisha, Karnataka and Bihar.

But how do you justify the use of trust funds for increasing your stake in SKS Microfinance?

We are perfectly within our mandate. SKS Trust was the original promoter of SKS Microfinance and the trust deed specifically says SKS Trust can set up a company to provide financial services to its beneficiaries.

Today, when we see SKS veering away from its original mission, we not only have a right to buy shares to assert the concerns of our beneficiaries, we actually have the duty to do that.

Do you think Akula can work harmoniously with other members of the board, considering he has had issues earlier?

Harmony is a two-way process.

We can also ask the reverse question: Can the current board work with Vikram?

Can they handle a board member who asks tough questions?

The current board also has a responsibility in maintaining working relations with him.

After all, they are running a company that Vikram started.

In any case, harmony within the board is not the end goal.

It is performance and public confidence.

Sometimes, debate over strategy is good.

We certainly are confident that Vikram can enhance the debate and in so doing, improve the performance of the company.

We know he has served on a number of other eminent boards without any problem.

Some private equity funds such as Westbridge have opposed your membership on the board and have increased their stakes. Will you look at any other partner to support you to buy more stake or use your funds? Will you go to the Company Law Board?

We are confident that we have broad support -- both from shareholders and from potential new investors.

We don't need to increase our stake further.

If the board rejects us, we would like to discuss with them as to the reasons. If no good reason is given, we (will) pursue all legal and regulatory channels.

We also have a wide range of issues we have tried to discuss with the company in the past and we will pursue remedies for these as well.
Image: Biksham Gujja; Photograph, courtesy, Business Standard