INOX has denied the claims made in a complaint to the stock market regulator by Reliance MediaWorks that Fame India promoters sold their stake in that company to INOX at an unduly low price, far lower than what RMW was willing to pay.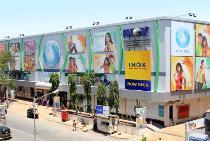 In its reply to the Securities and Exchange Board of India, INOX said the block deal on the stock exchanges for buying the promoters' stake was at the prevailing market price. While the one-year average price for Fame was Rs 20.77 per share, the three-month average immediately before the deal was Rs 31.
INOX paid a premium to acquire the promoters' stake, at Rs 44 per share. RMW had also claimed it was willing to pay Rs 80 per share to the Fame promoters. INOX's letter has said there was no evidence for any such offer and RMW made these claims after the deal was sealed.
On acquisition of control over Fame more than a year ago by INOX, as alleged by RMW, the company says there was none.
INOX has pointed out that in the last postal ballot for amendment to the Articles of Fame, around six months earlier, the Fame promoters exercised
voting rights on the shares. INOX has also pointed out that RMW also says it was negotiating with the Fame promoters for a share purchase till the end of January.
A
top executive of RMW would not comment, saying he needed to see INOX's letter.
A source told Business Standard there
may not be any substance to the claims made in a complaint to the stock market regulator by RMW that they should be allowed to induct an equal number of board members in the Fame India board to what INOX has done.
 "According to Sebi regulations, RMW would have got the rights to induct a director on Fame India's board if it had deposited 100 per cent of the open offer amount in an escrow account within 21
days of making an announcement for the offer. However, RMW did not do it and missed the opportunity," the source said.
INOX had bought the 43.28 per cent stake of Fame India's promoter, Shravan Shroff, for Rs 440 million (Rs 44 crore) at Rs 44 per share and had made an open offer to buy another 20 per cent at Rs 51
per share. They kept the entire amount (Rs 420 million) of the potential outgo for the open offer in an escrow account within 21 days of making an announcement. The open offer begins on April 1.