Infosys board member V Balakrishnan has sold 100,000 shares in the company via open market transactions on Thursday (November 7) for Rs 33.05 crore, a regulatory filing to the Bombay Stock Exchange showed.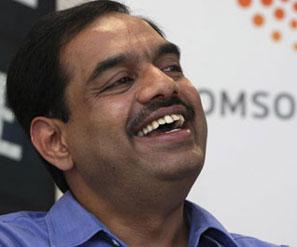 The shares were held by Balakrishnan's minor daughters Sneha and Shweta, according to the filing. Post the share sale, the minors do not hold any stake in the Bangalore-based IT major. According to the company's balance sheet, Balakrishnan held 310,623 equity shares apart from 16,000 American Depository Receipts, as of March 2012.

Balakrishnan, head of the BPO, Finacle and India business units at Infosys, is widely seen as a contender for CEO after the incumbent S D Shibulal's term ends in 2015. Balakrishnan, who was earlier chief financial officer of Infosys, is also chairman of Infosys Lodestone.

"I sold the shares for my personal reasons; there is nothing more to it," Balakrishnan told Business Standard. However, the sale has set off speculation among industry experts. While some are of the view that the attractive valuation of the stock may be a reason, many others say there may be more to it than meets the eye. "Someone tipped to be CEO would not sell shares because of attractive valuations. There has to be more to this than what we know,"
said an analyst with a domestic brokerage house, requesting anonymity.
Infosys has been undergoing an organisational overhaul since the return of Executive Chairman N R Narayana Murthy in June.
The IT major has seen several senior-level exits over the past few months, which has made observers watchful of any action by its senior executives. Among others, Infosys has recently seen the exit of its head of the Americas and global manufacturing vertical, Ashok Vemuri, who moved to join rival iGate.
Vemuri was also seen as one of the top contenders for the CEO's post -- the other two being B G Srinivas and Balakrishnan.
At the time of Vemuri's exit, Murthy, based on his discussion with the former, had said that he (Vemuri) was eager to become CEO soon and "the probability of his becoming CEO was at best 33 per cent and at least 18-20 months away".
Despite such speculation, observers are confident that investors are unlikely to respond much to this development. "Selling of shares by directors or top management keeps happening in Indian IT companies, especially in the small and mid-sized ones. It is very difficult to correlate the action with any particular reason. I don't think in this case, you would see any knee-jerk reaction by the market," said another market analyst on the condition of anonymity.