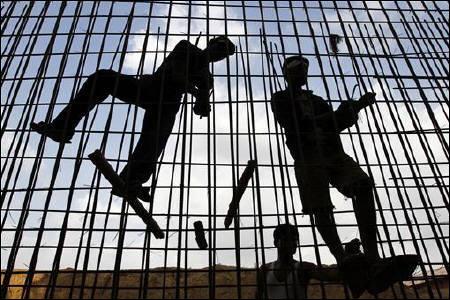 Annual growth in the eight core sector industries more than doubled to seven-month high of 5.1 per cent in September on good production in coal, cement and petroleum refinery sectors.
The growth in the eight infrastructure industries -- coal, crude oil, natural gas, refinery products, fertilizers, steel, cement and electricity -- was 2.5 per cent in September 2011.
The cumulative growth in the first half of the fiscal was lower at 3.2 per cent as against 5 per cent in the same period due to slower expansion in other months.
Coal production in September registered a growth of 21.4 per cent compared to its negative growth at (-) 18.2 per cent in same month last year, according to the data released by the Commerce and Industry Ministry.
In the first half also, the coal production growth rate improved to 8.3 per cent.
Petroleum refinery output too put up a better performance in the month under review. The growth in the segment was 11.4 per cent as compared to 4.3 per cent in September 2011.
Crude oil sector continued to perform poorly as the output remained in the negative zone for the fourth month in succession. The output declined by 1.7 per cent. Natural gas production too declined significantly by 14.8 per cent.
Expansion in steel production slowed to 2 per cent and growth in cement output was 13.4 per cent.
"The modest growth in September, 2012 was on account of double-digit growth witnessed in the production of Coal, Petroleum Refinery Products and Cement," the data said
The eight core sector industries have a weight of 37.9 per cent in the overall Index of Industrial Production (IIP).
Showing signs of turnaround, IIP grew by 2.7 per cent in August, reversing the trend of contraction witnessed during the previous two months.