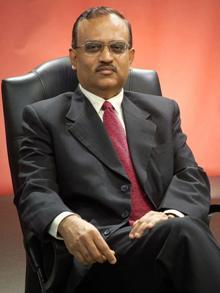 IT services major Infosys on Monday said a member of its Board of Directors, Srinath Batni, has sold company's 20,000 shares worth Rs 7.46 crore (74.6 million).

Batni, who joined the Bengaluru-based firm in 1992, is also the Head of Delivery Excellence at Infosys.

In a BSE filing, Infosys said Batni on Monday sold 20,000 shares of the firm worth Rs 7,46,00,000 at the BSE.

Post the sale, Batni's stake in the firm declined to 0.095 per cent (549,847 shares), it added.

Batni earlier held 0.099 per cent stake (569,847 shares) in Infosys, it said.

Earlier this month, the country's second-largest software services firm reported a 21.4 per cent increase in net profit to Rs 2,875 crore (Rs 28.75 billion) in the third quarter ended December 31 against Rs 2,369 crore (Rs 23.69 billion) in the same period a year earlier.

Revenue rose by 25 per cent to Rs 13,026 crore (Rs 130.26 billion) from Rs 10,424 crore (Rs 104.24 billion) during the period under review.

Infosys' scrip has moved in a wide range from about Rs 2,200 level to around Rs 3,760 in the past 10 months.

Shares of the company on Monday rose by 0.59 per cent to settle at Rs 3,749.90 apiece from its previous close.
Image: Srinath Batni; Photograph, courtesy: Infosys.com