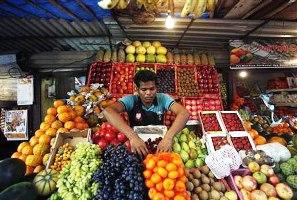 The rupee's sharp depreciation against the dollar has raised concerns over inflationary pressures, as India imports 80 per cent of its crude oil requirement, something that helped trigger the balance of payments crisis of 1990-91.

Though inflation, on the basis of the wholesale price index, is nowhere near the 1990-91 level of 10.26 per cent and India is in a much better position to check it, the greater integration of our economy with the globe has exposed it to a much higher risk of imported inflation.

The spike in oil prices during the Gulf war had led to severe inflation, turning into the BoP crisis.

India had double-digit inflation for three years starting 1990-91. It was briefly disrupted in 1993-94 when it was 8.3 per cent, but jumped to 12.6 per cent in 1994-95.

After that, India never saw an average WPI inflation of over 10 per cent in a year, though it came close to that in 2010-11.

The inflation averaged 7.3 per cent in 2012-13.

In the first two months of the current fiscal, it was in the comfort zone of the Reserve Bank of India, 4.89 per cent in April and 4.7 per cent in May.

The Consumer Price Index-based inflation was in double digits at 10.4 per cent in 2012-13, on an average.

This declined to 9.39 per cent in April and to 9.31 per cent in May.

Comparison of retail price inflation with 1990-91's is difficult as the present index was launched in 2011.

While inflation may again spike in July, particularly in food, it will be due to post-rain disruption in supply.

Comparisons

"That was under an extraordinary situation.

The economy has shown a lot of resilience despite the downturns in terms of low GDP and high inflation and pressure on the rupee," said Soumya Kanti Ghosh, chief economic advisor with the State Bank of India.

Economists said though the currency had depreciated, global commodity prices have significantly declined.

"The rupee has depreciated from 44 a dollar in August 2011 to 60 in June, but if we also look at the corresponding figures of imported inflation, it has declined from 11 per cent to below 2.4 per cent, because commodity and oil prices saw a downward trend," said Ghosh.

Anis Chakravarty, senior director, Deloitte India, said the output was low during the BoP crisis period.

Now, it is the high prices of inputs, including imported ones, that create hurdles in raising manufacturing capacity.

The inflation in manufactured products is low. It was 3.41 per cent in April and fell to 3.11 per cent in May.

Madan Sabnavis, chief economist at CARE Ratings, said though there would be an inflationary impact via imported goods on account of the rupee depreciation, there is a silver lining.

"In case there is a recovery in the US, emerging markets will benefit in terms of exports."

"There are warning signs and we need to address all the issues.

"We have to have a policy to make sure FDI is stimulated. We should address the volatility in FII (foreign institutional investment) markets, too," said Sabnavis.

In the BoP crisis period, it was mainly high inflation and low growth that the government was to manage.

India's growth slid to a decade low of five per cent in 2012-13, lower than in 1990-91.

However, this year it is expected to cross six per cent, whereas the case was quite different a year after 1990-91.

It was the depreciating rupee that did not allow the RBI to cut the policy rate last month.

The International Monetary Fund said monetary easing should be the first line of defence in emerging markets, if growth slides due to developments in the advanced world.

It also said a falling currency might not allow this, a dilemma India is witnessing.
Photograph: Vivek Prakash/Reuters