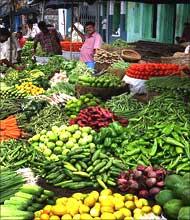 Prime Minister's Economic Advisory Council (PMEAC) Chairman C Rangarajan may have found the Reserve Bank of India (RBI)'s inflation projections on the higher side, but independent experts agree with the central bank and expect both wholesale and retail prices to remain high.
While announcing the second quarter monetary policy review on Tuesday, RBI Governor Raghuram Rajan had said retail and wholesale inflation were expected to remain high in the coming months.
"Wholesale Price Index (WPI) inflation is ruling above the Reserve Bank's comfort level and may remain range-bound around the current level during the second half of 2013-14," the central bank had said. For this financial year, retail inflation would exceed nine per cent, it said, adding the "persistence of high CPI (Consumer Price Index) inflation remains a concern".
Responding to this, Rangarajan had said inflation might not be as high as projected by the central bank. "I would really think as far as WPI is concerned, it would be 5.5-six per cent. I don't think it would exceed six per cent...I expect the WPI as well as CPI to remain at slightly lower levels than indicated," he had said.
Experts, however, agree with RBI's projections and say inflation might go up in coming months.
"In the coming months, when inflation numbers usually come down, we expect wholesale inflation to go up," Madan Sabnavis, chief economist, CARE Ratings. He added onion prices would continue to weigh on inflation, raising it to more than six per cent. "Wholesale inflation would likely remain above six per cent for 2013-14." The six per cent inflation level would become the "new comfort level" for RBI, while deciding on the monetary policy, he added.
On CPI-based inflation, experts said this could breach the double-digit mark in the coming months. "Because of the second-down effect of vegetable prices, retail inflation would likely go above 10 per cent in the coming months," said Soumya Kanti Ghosh, chief economist, State Bank of India. He added there would be no easing on this front until the beginning of 2014, as the rupee depreciation would have an impact on clothing and footwear. "Wholesale inflation would remain above six per cent this year," Ghosh said.
He added now, retail inflation was the indicator RBI monitored closely.
The PMEAC estimates wholesale inflation to be 5.5 per cent by the end of this year. Experts say this is unlikely, considering the current economic environment.
They add in case wholesale inflation falls below six per cent, RBI would get some room to cut rates. However, the consensus among economists is the central bank would go for another 25-basis-point rate rise in its next policy review in December, as till then, inflation is likely to remain high.
In September, WPI-based inflation stood at a seven-month high of 6.46 per cent, while its CPI-based counterpart stood at 9.84 per cent, a three month high.