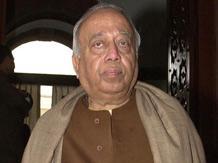 Industrialist Rama Prasad Goenka died early on Sunday morning at his residence in Kolkata after a brief illness.

He was 83.

Goenka is survived by his wife Sushila and sons Harsh Vardhan and Sanjiv.

The Goenkas are one of the oldest business families of eastern India.

RP Goenka established RPG Enterprises in 1979 which included Phillips Carbon Black, Asian Cables, Agarpara Jute Mill and Murphy India with a turnover of about Rs 100 crore (Rs 1 billion).

Other major companies in his group include CESC, CEAT, Spencer's and Saregama.

Goenka was a member of the Parliament in the Rajya Sabha.

He was a former president of the Federation of Indian Chambers of Commerce and Industry and the immediate past Chairman of the Board of Governors of the Indian Institute of Technology in Kharagpur.

Goenka held the position of Chairman of the Board of Governors, International Management Institute and is a trustee of the Jawaharlal Nehru Memorial Fund, Indira Gandhi Memorial Trust and the Rajiv Gandhi Foundation.
Image: Rama Prasad Goenka | Photograph, courtesy: Business Standard